Re-think comes after firms shun prized deals including job to build railway's main station in Birmingham
HS2 is set to finalise plans for an overhaul of its procurement strategy by the end of the month following challenges faced letting phase 1 work.
In a report published last week, the railway's chairman Allan Cook also hinted the changes could be linked to new sources of finance for the scheme which is now at least £16bn over budget.
He wrote: "HS2 is in advanced discussions with the Department for Transport and the Infrastructure and Projects Authority on the procurement and delivery approach for Phases 2a and 2b [Birmingham to Crewe and Crewe to Manchester] and should continue these until an overall strategy is agreed upon by October 2019.
"This demands flexibility and creativity in future contracting arrangements supported by different sources of financing."
Cook also admitted: "A number of lessons have been learned from the contracting strategy on Phase 1 [London to Birmingham]."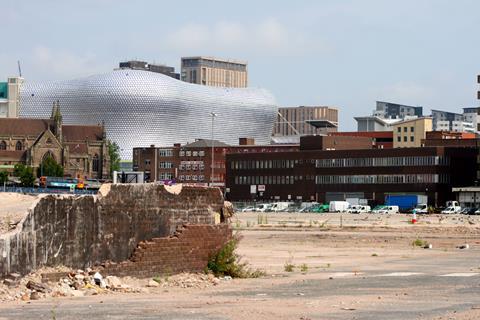 It comes as HS2 prepares to launch the first stage of procurement for a design and build contractor for Curzon Street station in central Birmingham – for the second time – in autumn.
The £435m contract was pulled in July because of contractors' concerns about the amount of risk they would be taking on.
Contracts to build the entire overhead catenary system for phases 1 and 2a, and the entire track for the phases 1 and 2b, in total worth £1.5bn, were pulled last month for the same reason. They are set to be re-launched towards the end of the year.
Building understands HS2 received expressions of interest to tender for all three of the contracts but decided to terminate the process because it no longer felt the contracts would offer value for money.
The words for track and catenary, as well as tunnel and line side M&E work, is expected to be split into several packages to encourage more firms to bid for the job. HS2 is also hoping splitting the deals will open it up to smaller firms as well.
The scope and price for construction of Curzon Street station will remain broadly the same in the relaunched contract but it will now be a two-stage procurement route rather than single stage deal originally drawn up last year.
It is expected a target price will be agreed at the end of stage one, rather than as part of the tender submission, giving bidders the chance to price risk in under the second stage of the tender.