Seven heavyweight contractor JVs shortlisted for three packages across north, central and southern parts of route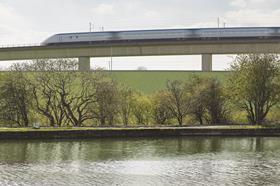 HS2 has shortlisted seven contractor joint ventures for enabling works packages worth a combined £900m.
The work is split into three packages worth around £300m each and covering the northern, central and southern sections of the route, with work scheduled to start in 2017.
The shortlisted JVs are:
BBV JV (Balfour Beatty Group plc, Vinci Construction Grands Projets SAS, Vinci Construction UK Limited, Vinci Construction Terrassement SAS)
CEK JV (Carrillion Construction Limited, Eiffage Travaux Publics, Kier Infrastructure and Overseas)
Costain Skanska JV (Costain Limited, Skanska Construction Limited)
LM (Laing O'Rourke, J. Murphy & Sons)
Morgan Sindall / BAM / Ferrovial JV (Morgan Sindall plc, BAM Nuttall Limited, Ferrovial Agroman (UK) Limited)
Align JV (BouyguesTravaux Publics, Sir Robert McAlpine, Morrison Utility Services, Volkerfitzpatrick)
Momentum Infrastructure (Galliford Try Infrastructure Limited, Hochtief Infrastructure GmbH, Dragados SA)
A formal invitation to tender (ITT) will be issued in the first quarter of 2016, with contracts expected to be awarded in the third quarter of next year.
HS2 Ltd chief executive, Simon Kirby, said: "Today's shortlist marks an important milestone as we move towards the start of construction in 2017 and a real boost for the UK construction industry.
"Over the course of the next few years, the winning bidders will go on to employ thousands of people on site and in the supply chain, preparing the ground for the start of major civil engineering.
"Announcing the shortlist now will help give business the certainty they need to push on with their bids, start to put in place supply chains and invest in recruitment, training and education ahead of the start of construction."
Shortlist for lot 1 (south):
BBV JV (Balfour Beatty Group plc, Vinci Construction Grands Projets SAS, Vinci Construction UK Limited, Vinci Construction Terrassement SAS)
CEK JV (Carrillion Construction Limited, Eiffage Travaux Publics, Kier Infrastructure and Overseas)
Costain Skanska JV (Costain Limited, Skanska Construction Limited)
LM (Laing O'Rourke, J. Murphy & Sons)
Morgan Sindall / BAM / Ferrovial JV (Morgan Sindall plc, BAM Nuttall Limited, Ferrovial Agroman (UK) Limited)
Shortlist for lot 2 (central):
Align JV (BouyguesTravaux Publics, Sir Robert McAlpine, Morrison Utility Services, Volkerfitzpatrick)
BBV JV (Balfour Beatty Group plc, Vinci Construction Grands Projets SAS, Vinci Construction UK Limited, Vinci Construction Terrassement SAS)
CEK JV (Carrillion Construction Limited, Eiffage Travaux Publics, Kier Infrastructure and Overseas)
LM (Laing O'Rourke, J. Murphy & Sons)
Morgan Sindall / BAM / Ferrovial JV (Morgan Sindall plc, BAM Nuttall Limited, Ferrovial Agroman (UK) Limited)
Shortlist for lot 3 (north):
BBV JV (Balfour Beatty Group plc, Vinci Construction Grands Projets SAS, Vinci Construction UK Limited, Vinci Construction Terrassement SAS)
CEK JV (Carrillion Construction Limited, Eiffage Travaux Publics, Kier Infrastructure and Overseas)
Momentum Infrastructure (Galliford Try Infrastructure Limited, Hochtief Infrastructure GmbH, Dragados SA)
LM (Laing O'Rourke, J. Murphy & Sons)
Morgan Sindall / BAM / Ferrovial JV (Morgan Sindall plc, BAM Nuttall Limited, Ferrovial Agroman (UK) Limited)