Works include the transformation of London Euston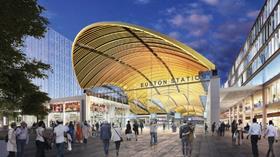 HS2 has named the architects, designers and engineers that will help transform and create four stations along the route.
The overhaul of London Euston (pictured) will be designed by Arup working with Grimshaw Architects.
Arup also got the nod for design work on the new Birmingham Interchange station, working with its architecture arm Arup Associates and Wilkinson Eyre.
The latter will also work on the new Old Oak Common station in north west London, combining with WSP. This will be located on the site of the Old Oak regeneration scheme and is the largest project of its kind in the UK.
The third new station, Birmingham Curzon Street, will also be designed by WSP UK along with Grimshaw Architects.
HS2, which is scheduled for operation from 2026, is expected to see around 30,000 homes built around the four stations.
They will be designed with input from local communities and within guidelines and specifications endorsed by an independent panel of leading architects and designers.
The HS2 Design Panel will continue to play a key role in reviewing the detailed designs as they develop through 2018.
Mark Thurston, chief executive of HS2, said: "Our new stations in London and Birmingham will be at the heart of the first phase of the project, increasing capacity, improving journeys and helping to unlock opportunities for tens of thousands of new jobs and homes around what will be four new landmark buildings."
Earlier this week, HS2 started its search for rail systems track and M&E contractors to deliver works on lines between London, Birmingham and Crewe.
The £1.55bn track and overhead catenary system (OCS) package will link the whole system and trains before it is handed over to the operator for the line's trial running phase.
The second £330m contract package is for tunnel and lineside M&E and tunnel ventilation works.