Report based on two live UK sites being built by McAlpine and Skanska
The construction sector must improve its measurement of on-site productivity if it wants to improve it, according to an industry taskforce.
The Construction Productivity Taskforce has today published a seven-step framework outlining how firms can improve data collection to increase efficiency.
Two live UK project sites – Landsec's The Forge in Southwark and Norton Folgate, British Land's Blossom Street development – have been used to develop the methodology behind the framework.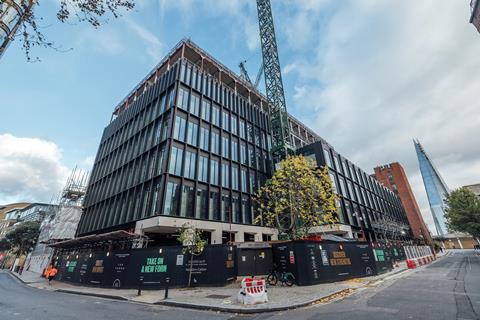 The report, called 'Measuring Construction Site Productivity: A seven-step framework for success', offers two case studies from each site, demonstrating how the steps can be implemented.
According to the taskforce, findings from the pilot sites suggest productivity can be enhanced by use of digital technologies, improved management, upskilling and reduced waste.
Neil Pennell, head of design innovation and property solutions at Landsec, said that to improve productivity it was "important first to measure and compare" and said the framework provided "a great starting point for the industry to begin to standardise the process of measuring site construction productivity".
"This document is designed not to sit in desk drawers, but to be put to work, in service of a higher performing sector," said Katy Dowding, pilot project sponsor and executive vice president at Skanska.
"This framework is an industry first and, while we strive for improved productivity on our sites, we hope to see further editions of the document produced as the industry evolves and we gather evidence from our sites."
The taskforce is led by non-profit Be the Business and backed by firms including British Land, GPE, Landsec, Lendlease, Mace, Morrisroe, Sir Robert McAlpine, Skanska, SOM, Bryden Wood and Cast.