A report from the Environmental Audit Committee said factory-built homes were more prone to overheating and should therefore not receive government funding.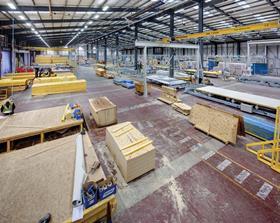 An industry body representing off-site manufacturers has hit back at a select committee report calling for the government to pull support for modular housing.
Buildoffsite has hit out at suggestions from the Environmental Audit Committee that factory-built homes were more prone to overheating and should therefore not receive government funding.
The report said: "Modular homes are not resilient to heatwaves, and should not receive support from the government. The government should stop directing financial support to modular housing from its Home Building Fund."
But Buildoffsite, whose membership includes Balfour Beatty, Kier and RIBA, hit back saying smart design was key whether homes were being built traditionally or using modern methods of construction.
The trade body said: "As with traditional construction, good offsite design gives excellent mitigation of overheating as well as enhanced winter insulation. Poor design for solar gain and a lack of natural ventilation is equally detrimental to traditional and offsite technologies."
The report, Heatwaves: adapting to climate change, looked at how the country should prepare for heatwaves, including by constructing buildings that will resist overheating.
MPs from the committee called on the government to update building regulations to ensure that homes, hospitals, and schools do not overheat in periods of high summer temperatures.
The report focussed on the merits of thermally efficient construction and the use of materials such as concrete, which have a high thermal mass and are not traditionally used in off-site manufacturing. They were considered efficient as they are able to absorb heat during the day and let it out at night.
But Buildoffsite rebutted this, saying that "in periods of sustained high overnight temperature, as our cities have experienced recently, [thermal mass] is insufficient on its own to prevent overheating".
It also said the offsite sector used a broad spectrum of materials and technologies with both "high thermal mass concrete and lower thermal mass, highly energy efficient timber, lightweight steel and hybrid manufactured building technologies".