Constructuion industry leaders urge employers to do more to encourage women into the industry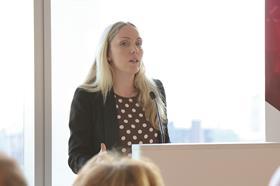 Construction industry leaders from across the sector have urged employers to do more to promote and encourage women into the industry and into leadership positions, at a panel debate hosted by Building, writes Iain Withers.
The debate featured panellists Holly Porter (pictured), founding director of Surface to Air Architects and founder of the Chicks with Bricks networking group; Peter Flint, head of Aecom's buildings and places division; James Wates, chair of contractor Wates Group and construction skills body the CITB, and Hilary Satchwell, director at Tibbalds Planning and Urban Design.
Porter said the industry must do more to promote female role models, and put a greater emphasis on "reinforcement of success and engagement in the industry" for women and "profile building and PR".
Porter said she founded the Chicks with Bricks networking group in 2005 to help promote female role models: "I was looking for role models for where I wanted to be in 20 to 30 years' time and I couldn't find anyone. The [Chicks with Bricks] network is about finding those role models."
Flint said there was a clear business case for promoting more women leaders in construction and cited research by US analyst Quantopian that found Fortune 1000 companies led by women produced three times better share returns on the US stock exchange than male-led firms over a 12-year period.
Flint said UK professional firms needed to break down the barriers hampering women's career progression. He pointed out that male and female graduates tend to progress equally "until they become chartered, and then it goes very differently [in favour of men]".
Flint said Aecom had a number of inclusion and diversity programmes designed to help tackle the problem. He added: "As an industry we've really got to take this seriously."
If every time a woman is challenging they are belittled, we are not going to move forward

Hilary Satchwell, Tibbalds
Satchwell said Tibbalds was one of the UK's fastest-growing female-led firms, and is led by an all-female board. She said the diversity challenge at the firm was the reverse of the norm: "We have to keep an eye on how many men are in the company."
Satchwell cited cultural problems in construction for holding women back: "If every time a woman is challenging they are belittled, then we are not going to move forward."
Wates said he was encouraged that his family's Wates contracting business employs 20% women - above the 12% average for the industry - while the CITB's board is majority comprised of women, seven to four, but said both organisations could do more.
Wates said Build UK - the contracting trade association set to launch in September through the merger of the UK Contractors Group and National Specialist Contractors Council, which he will co-chair - will "continue to drive forward" recruitment of women in construction under chief executive Suzannah Nichol.
The debate, which was held in partnership with Aecom, was hosted at Building's offices in 240 Blackfriars tower near London's South Bank, and chaired by Building editor Sarah Richardson. The debate forms part of our Building a Better Balance campaign.