Power station bosses say cross-sector workers key to skills crisis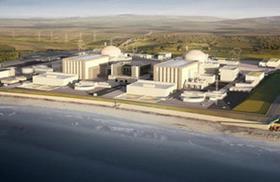 Nuclear power bosses have said construction must do more to develop a broader supply of skills so big ticket infrastructure schemes don't end cannibalising rivals for staff.
The chief executive of Horizon Nuclear Power, which is behind a planned power station at Wyfla Newydd on Anglesey, said the mega schemes of the future ran the risk of continually having to fend off others poaching their staff.
Duncan Hawthorne said: "We actually have to deepen the pool of talent. Raiding each other for resources is a recipe for failure. All of us have to understand that our job is to create a wider resource pool."
And the man in charge of Hinkley Point C for EDF Energy, the French-owned firm developing the plant at Somerset, said other schemes have benefitted from an apprenticeships programme it has begun with a local college.
He added: "We've worked very closely with Bridgwater College. We conduct apprenticeships in catering, in steel fixing, in civil engineering and very soon we'll move on to mechanical and electrical erection type skills.
"Although that fund is going to Bridgwater, it's benefited many other projects as many of our steel-fixing apprentices and trainees have gone off to work on other projects like Crossrail and HS2."
Fiona Rayment, chair of the Nuclear Skills Strategy Group, said: "If you look at the growth that's required from now, we are going to need an average inflow of around 7,000 people a year of which a lot of them are construction workers."
She added the industry needed 100,000 people in the workforce over the next five years.