Industry bodies call for George Osborne to use budget to boost capital investment in construction projects as a means of driving economic growth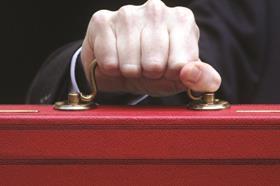 Industry bodies have called on the chancellor to boost construction in his forthcoming budget, through a range of measures including increased capital spending on repairs and maintenance and fresh drive to improve the energy efficiency of buildings.
In submissions to the Treasury ahead of the chancellor's budget on 20 March, the Institution of Civil Engineers (ICE), the Construction Products Association (CPA), the Federation of Master Builders (FMB) and the Civil Engineering Contractors Association (CECA) all called for the government to boost economic growth by supporting the construction industry.
The CPA called for the government to implement "practical policies" that would help support its "dual mandate of growth and achieving its medium-term deficit targets".
These included:
Capital investment in repairs and maintenance - the CPA called for the government to rebalance spending from current to capital investment, with a boost in capital spending in repairs and maintenance in areas such as housing, schools and hospitals. The CPA also called for the Treasury to utilise finance available in the private sector, in the form of a bond auction, to finance a short-term capital investment expansion to drive UK economic growth
Local Authority Spending - the CPA urged the government to ring-fence £1.2bn of local authority funding for highway maintenance and transport projects, to ensure it is spent on it intended purpose
Infrastructure - the CPA called for the government to develop an infrastructure strategy, monitored by an independent infrastructure panel, to leverage private investment underpinned by government guarantees
Green Deal - the CPA called on the government to bolster the Green Deal by utilising changes in stamp duty, which could be fiscally-neutral, to drive energy-efficient home improvements.
The ICE urged the government to use the budget to implement a raft of measures to speed up the delivery of the National Infrastructure Plan (NIP), in order to move it from "a rhetorical commitment to a programme of work that can deliver wide benefits in both the short and long term".
The ICE called for the government to:
Produce a delivery timeline for the NIP "top 40" priority project list - clearly identifying its own actions and prioritising those which are critical to timely delivery
Commit to rapid completion of Electricity Market Reform and publication of the outstanding National Policy Statement on Transport Networks - the ICE said both were holding back major investment or potential projects and causing uncertainty
Prioritise action on finance and funding - the ICE said the NIP envisages a rise in infrastructure investment to £50bn per annum over the next decade and the UK is a long way off achieving this. The ICE called for more detail on what is required from each infrastructure network in order to meet government's own goals, including clarity on acceptable trade-offs (e.g. achieving economic growth v reducing emissions), which would enable more effective prioritisation of investment
Support industry efforts to unblock smaller, local projects - so they can move from planning to delivery and contribute to shorter term economic growth
Prioritise the UK's flood defences for any additional public capital expenditure - for every £1 spent on flood risk management, £8 is saved in avoiding future damage.
The FMB called on the government to focus on energy-efficient house building, with chief executive Brian Berry asking the chancellor to divert funds into a "massive public-sector programme to improve the energy-efficiency of Britain's existing 26m homes".
He said this would boost GDP by 0.2%, create 130,000 jobs and help the government meet its own targets for cutting carbon emissions.
The FMB also called for a VAT to be cut from 20 per cent to 5 per cent on home renovation and repair. "Britain's ageing housing stock is deteriorating as home-owners can't afford to get work done. Families are trapped in a vicious cycle, in which they can't afford to move and planning red tape makes it harder to alter their homes to meet changing need," said Berry.
"Cutting VAT on renovation and repair would give a shot in the arm to beleaguered builders, create jobs and encourage householders to make their homes more comfortable, affordable and energy-efficient."
CECA set out a list of infrastructure priorities that need to be addressed "if the sector is to fufil its potential in returning growth to the UK economy".
These include:
Unblocking local projects - CECA called for government support to unlock "thousands of smaller infrastructure projects nation-wide that are currently struggling to move from planning to delivery".
Clarity on UK Guarantees Scheme - CECA called on the government to convert the interest shown in the UK guarantees scheme into confirmed guarantees for new projects, "allowing industry the visibility of opportunities that this would create".
Financial sector - CECA called on the government to make a more aggressive effort to ensure lenders take up funds through the Funding for Lending scheme and promote the scheme to ensure more lending comes through to businesses.