More than 200 Hanson drivers rejected pay rise offer amid ongoing haulage crisis
The industry has been warned that it faces "severe" shortages of cement this autumn because of potential strike action by lorry drivers.
Unite, the UK's largest trade union, said that some of the country's biggest projects including HS2 could run short of cement if lorry drivers employed by cement firm Hanson vote for strike action.
More than 200 lorry drivers delivering Hanson's Castle Cement brand have rejected a pay offer of 2.5% for this year amid an ongoing national shortage of drivers across all sectors.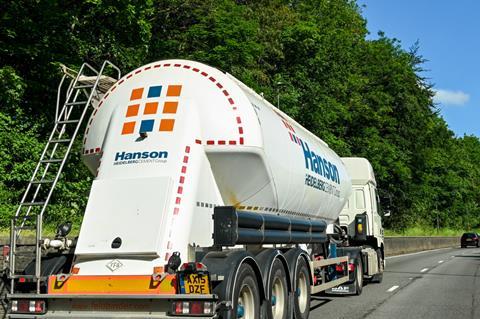 Unite said that with inflation rates currently at 3.9%, the offer amounts to a "hefty" pay cut in real terms.
It added drivers are also unhappy about Hanson's "high handed management style and a marked lack of dignity at work".
As well as HS2, projects which the drivers deliver cement to include Hinkley Point, Sellafield and Thames Tideway.
They also supply major builders merchants including Jewson and Marshalls.
The ballot will open this Friday and close two weeks later, with strike action potentially beginning in October if members vote in favour.
Unite national officer Adrian Jones said: "If strikes do occur then it will have major implications for the construction industry. Supplies of cement will quickly run out, which will result in projects being delayed.
"Hanson's is simply not giving its drivers the respect they deserve. This is apparent in their working conditions and their pay.
"The solution is in Hanson's hands. The company needs to return to the negotiating table and demonstrate genuine changes to the way our members are managed and make an offer on pay that reflects the current challenges in the industry and the commitment our members give to the company."
Hanson has been approached for comment.
Last month the Construction Leadership Council warned that shortages of lorry drivers is now the major concern for many suppliers and comes as prices for materials continue to grow, with timber, cement, roofing products, bricks, blocks, insulation and steel in shortest supply.