Leaders say deal is a good start but industry needs to start transforming quickly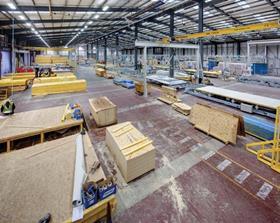 Heavy hitters from the construction industry have welcomed the government's release of the construction sector deal but many are labelling as merely a "good start".
The delayed £420m deal, which was originally meant to be released in January before Carillion's collapse stalled its progress, looks to reform the industry across five areas: ideas, people, infrastructure, business environment and places.
Key figures from within the industry said the deal was a significant step in its transformation but warned it was important the sector avoided complacency now that it has been published.
Mark Reynolds, chief executive of Mace and Construction Leadership Council (CLC) skills lead, said: "This deal is a great start. A step on a path to a brighter future. We now need to transform ourselves and do so at pace. The construction sector deal's focus on innovation and modern methods of construction is extremely important and welcome.
"Our industry is now in the midst of a perfect positive storm which is forcing businesses to change how they deliver projects. If we can transform ourselves we can boost international exports, enhance regional growth and increase productivity which will result in more sustainable margins and opportunities for our people.
"The pledge to create 25,000 apprenticeship by 2020 and 1,000 construction T-level placements is also welcome. I would encourage everyone in our sector to embrace T-levels a fantastic way to develop the work force of the future."
Mark Farmer, chief executive at consultant Cast, also acknowledged the deal's focus on investing in technology but conceded significant change would take time.
"It will take time to deliver change but the ambition presented here, in conjunction with the government's own leadership in its capital spend programmes, will ultimately accelerate housing and infrastructure delivery and enable the industry to keep up with the broader demands of a growing economy.
"The government's announcement today of a £420m sector deal to technologically transform the construction industry is a vital milestone in the sector's modernisation journey.
Ann Bentley, RLB global board director and member of the CLC, said: "The sector deal underpins the government's recognition of the importance of the construction sector to the overall economy. It demonstrates how the wider construction industry and government can work together to deliver the maximum benefit for both businesses and the wider economy through the uptake of digital and manufacturing technologies and by taking a long term view on asset performance and value."
A number of key figures were particularly welcoming of the deal's focus on reshaping the business environment.
Rudi Klein, Specialist Engineering Contractors Group's chief executive, said he was particularly pleased to see some focus on promoting a more sustainable business model for the industry and on developing an industry-wide definition of value.
He said: "The Grenfell tragedy and the Carillion debacle have highlighted the dysfunctionalities in procurement and delivery especially abusive business practices and the lowest price culture which have had a detrimental impact on quality."
Nick Baveystock, Institution of Civil Engineers director general, said: "We welcome, in particular, the focus on creating a new sustainable business model for construction, which the report recognises is in line with the work we have been doing on Project 13.
"The focus on priority areas including future construction skills and creating a more productive, sustainable industry echoes ICE's own analysis. We need new talent and skills to help to build the Britain of the future, meeting society's changing needs through digital transformation of infrastructure and increased productivity in housing delivery.
He said it was important for all parties to "remember that this document should not be seen as static, but rather provide a platform for continuous collaboration between all relevant government departments, industry and trade bodies".