The deal, which was originally due out in January, has been published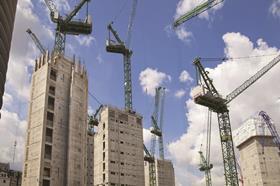 The new £420m construction Sector Deal has been published today.
The deal, which will establish a new partnership between the government and the construction industry, will be formally announced by business and energy Secretary Greg Clark, in a speech to the Northern Powerhouse Summit in Newcastle this afternoon.
Details of the Sector Deal had been due to be published in January and have been delayed almost six months by the collapse of Carillion.
According to the government, the deal represents a £420m investment in "bytes and mortar smart construction" - which will transform construction through use of digital building design.
As it confirmed in November, the government is investing £170m in the Sector Deal, while industry has agreed to match that with a £250m contribution.
The investment in new manufacturing technologies and offsite manufacturing is aiming to reduce the time it takes to deliver new build by 50% by 2025.
BEIS also set targets for the number of new starters in the construction sector.
By 2020, the government said it had a target of 25,000 apprenticeship starts and 1,000 construction T-level placements.
Clark said: "The construction industry is fundamental to growing our economy as we build to invest in our future. Major infrastructure projects like HS2 and the commitment to deliver 1.5 million homes by 2022 mean that we need a construction sector that can drive innovation, delivering homes and infrastructure quicker.
"As buildings account for around 30% of total emissions, we also want to ensure that we are at the global forefront in designing and building smart, energy efficient and affordable homes and buildings through the Clean Growth Grand Challenge, saving families money on their bills.
"This Sector Deal is supported by the biggest government investment in construction for at least a decade and will drive economic growth and create well-paid highly-skilled jobs in every part of the UK."
Andrew Wolstenholme, Co-Chair of the Construction Leadership Council said: "Securing this deal sends out a statement about the vital contribution our sector makes to the country.
"Our industry builds the schools to educate the young, the hospitals to care for the sick, the police stations to keep us safe, the roads and railways that get us to work, the power stations that keep us warm and the homes we return to each day."
He said he was confident the Sector Deal would help the industry drive future economic growth in the UK.
The Construction Sector Deal will deliver:
£420m investment in 'bytes and mortar smart construction' - investment will transform construction through use of digital building design, new manufacturing technologies and offsite manufacturing helping cut the time taken to deliver new build by 50%

Industry to invest £250m directly aligned with the Industrial Strategy Challenge Fund Transforming Construction: Manufacturing Better Buildings programme
Government to invest £170m directly aligned with the Industrial Strategy Challenge Fund Transforming Construction: Manufacturing Better Buildings programme

Cheaper energy bills for families and businesses – support Industrial Strategy mission to halve the energy use of new builds by 2030
25,000 construction apprenticeship starts and 1,000 Construction T Level placements by 2020 to help give young people the skills that industry needs – with £34m to scale up innovative training models across the country
$2.5 trillion of global exports – a globally-competitive sector targeting the growing international infrastructure market that is set to grow by 70% in the years ahead
It is aiming to provide the framework for a sector that delivers:
A 33% reduction in the cost of construction and the whole life cost of assets
A 50% reduction in the time taken from inception to completion of new build
A 50% reduction in greenhouse gas emissions in the built environment –supporting the Industrial Strategy's Clean Growth Grand Challenge
A 50% reduction in thetrade gap between total exports and total imports of construction products and materials