The sector accounted for around a quarter of the value of all contracts handed out in the month
Infrastructure clients handed out around a quarter of the total amount of construction work doled out in May, Glenigan data has revealed.
The figures (see Building Boardroom) reveal the most work was awarded in the sector, with firms here inking deals worth just over £1.13bn – or around 25% of all work handed out in the month.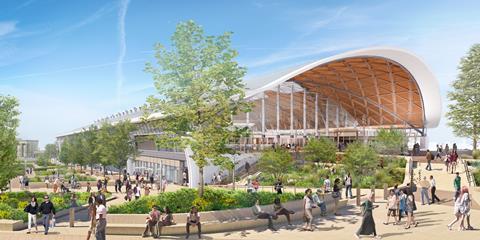 After infrastructure, the next most prolific sector was private housing, with clients here awarding firms £702m of business.
This was followed by those in the social housing sector, at £538m and utilities clients awarding £419m worth of work.
Among the top deals signed in the month was the win by Mace/Dragados to build HS2's £571m Curzon Street station and Laing O'Rourke's £160m contract win to build One Heritage Tower in Salford.
The top three contract wins were rounded out with Taylor Woodrow's £150m contract win to replace 90km of the underground fuel pipeline between Boorley Green, Hampshire, and the West London Terminal storage facility in Hounslow.
Meanwhile, the data has also revealed that £5.5bn worth of projects were approved in May.
The private housing sector was the market with the highest value of projects given the green light, securing permission for 303 schemes worth almost £1.66bn.
After private residential, industrial achieved the second-highest value of approvals at £1.56bn, followed by commercial at £1.23bn.
Top spending clients - May 2021
The data above and below is just a sample of the contract awards by sector for May put together by Glenigan. They are just a small part of the client information that is accessible through the Building Boardroom Network.
Infrastructure
| Ultimate Company Name | Total Number of Projects | Total Value of Projects |
| --- | --- | --- |
| Department for Transport | 2 | £579m |
| Network Rail | 8 | £66.89m |
| Nexus/Tyne & Wear Passenger Transport Executive | 1 | £55m |
| Bowmer & Kirkland/Cordwell Property Group | 1 | £48m |
| Pivot Power | 1 | £41m |
Education
| Ultimate Company Name | Total Number of Projects | Total Value of Projects |
| --- | --- | --- |
| Powys County Council | 1 | £22m |
| West Sussex County Council | 2 | £20.4m |
| Perth & Kinross Council | 1 | £16.5m |
| Kent County Council | 2 | £15m |
| D S Electrical/Enable Trust/Marlwood School | 1 | £13m |
Hotel and leisure
| Ultimate Company Name | Total Number of Projects | Total Value of Projects |
| --- | --- | --- |
| U & I Plc | 1 | £50m |
| Queensberry Real Estate/Sheffield City Council | 1 | £30m |
| Renfrewshire Council | 1 | £23m |
| Olympic Park Legacy Company Limited | 1 | £22m |
| Garsington Opera | 1 | £14m |
Industrial
| Ultimate Company Name | Total Number of Projects | Total Value of Projects |
| --- | --- | --- |
| DHL Express (UK) Ltd | 1 | £35m |
| Consi Investments Ltd/Graftongate Developments Ltd | 1 | £25.16m |
| Arlington Business Services | 1 | £24.4m |
| The Symphony Group | 1 | £23m |
| Baytree Logistics Properties LLP/Log Lux Sarl | 1 | £16.5m |
Medical & scientific
| Ultimate Company Name | Total Number of Projects | Total Value of Projects |
| --- | --- | --- |
| Department of Health | 18 | £90.6m |
| Department of Health/Engie Buildings | 1 | £40m |
| Worthing Borough Council | 1 | £30m |
| Barchester Healthcare | 2 | £15.71m |
| Mars Incorporated | 1 | £12m |
Commercial
| Ultimate Company Name | Total Number of Projects | Total Value of Projects |
| --- | --- | --- |
| M & G Real Estates/Prudential Assurance Company/Wrenbridge | 1 | £50m |
| Aegis Group | 1 | £43m |
| Sumitomo Bank | 1 | £41m |
| Sony Music Entertainment UK | 1 | £26m |
| Alchemy Asset Management/Tristan Capital Partners | 1 | £24.82m |
Private housing
| Ultimate Company Name | Total Number of Projects | Total Value of Projects |
| --- | --- | --- |
| One Heritage | 1 | £160m |
| R & F One (UK) Ltd | 1 | £100m |
| Esrg Developments Limited/Ridge Birmingham S.A.R.L | 1 | £35m |
| Hightown Housing Association | 1 | £34.5m |
| Tai Tirion | 1 | £31.7m |
Retail
| Ultimate Company Name | Total Number of Projects | Total Value of Projects |
| --- | --- | --- |
| Lidl | 9 | £20.1m |
| Aldi | 12 | £19.96m |
| Cedar Investment | 1 | £12m |
| Costco Europe | 1 | £11.5m |
| Gallagher UK Ltd/LSP Developments | 1 | £10.81m |
Social housing
| Ultimate Company Name | Total Number of Projects | Total Value of Projects |
| --- | --- | --- |
| London Borough of Barking & Dagenham | 4 | £159m |
| Pickard Properties | 1 | £40m |
| City of York Council | 1 | £32m |
| Cynon Taf Community Housing Group/Trivallis | 1 | £31.05m |
| University of Cambridge | 1 | £30m |
The Building Boardroom Network is an easy to use portal where you will be able to access a wide range of vital business insight including research and tools to help bring your construction clients to life. Find out more at: https://www.building.co.uk/building-boardroom/

* private housing awards data refers to external contracts only and does not include frameworks
** projects awarded by a joint venture are listed independently to both single party clients