Government-backed National Infrastructure Plan for Skills says 100,000 new recruits needed to deliver infrastructure pipeline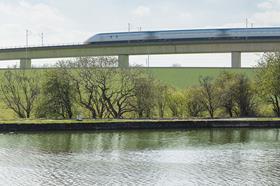 Nearly 100,000 new recruits are needed by 2020 to plug the skills gap for major infrastructure projects, according to the National Infrastructure Plan for Skills.
The government-backed report, published by Infrastructure UK, says the planned growth in infrastructure investment means that 250,000 construction workers and 150,000 engineers are needed to deliver the pipeline of work, meaning 100,000 new workers are needed by the end of the decade.
It also found that as well as the new workers, around 250,000 of the existing workforce would need retraining and upskilling to have the requisite blend of skills to deliver the pipeline.
The report stated that "fragmented approaches to skills planning and high levels of bespoke training" were making it harder for workers to move between sectors and projects, "exacerbating key skills shortages for key projects and programmes."
An increased investment in roads was found to be "stretching capacity and capability in the supply chain" according to the report, while high profile projects like HS2 and Hinkley Point C were also highlighted as a burden on capacity.
Commenting on the skills plan, Richard Threlfall, head of infrastructure at KPMG, said: "I very much welcome Infrastructure UK's initiative in developing the National Infrastructure Plan for Skills.
"It forces the construction industry to look beyond the current skills crisis to the long-term need to invest in its people, get serious about apprenticeships, and to re-train and diversify its workforce."
CECA chief executive Alasdair Reisner said: "CECA welcomes this mapping document as a resource for industry to prepare for the substantial amount of working coming online over the next few years.
"However, we can only meet the anticipated skills demand with the right environment. To this end CECA feels that this better visibility of skills demand should work hand-in-hand with a policy environment that encourages companies to invest in these skills."