Experian follows CPA in revising up construction growth forecasts, with total output expected to rise 4.2% this year and 4.4% in 2015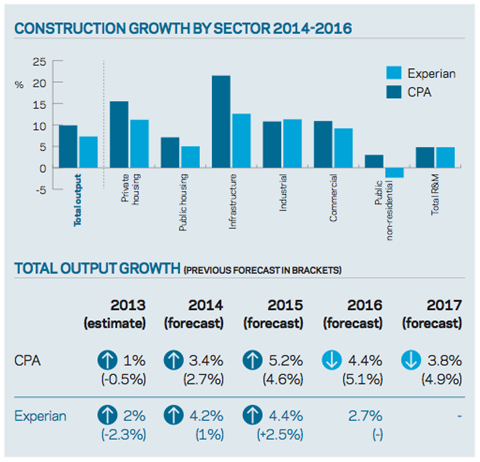 Infrastructure will be the strongest performing sector in construction over the next two years, with output expected to rise to a record high of £16.4bn by 2016, according to Experian's latest forecast.
Experian's revised construction forecast (attached below), published today, estimates that construction output grew 2% in 2013 – a major increase on the 2.3% contraction Experian expected in its previous forecast last summer. This comes after a 7.5% fall in construction output in 2012.
This year Experian forecasts growth of 4.2%, up from 1% in its summer forecast, with 4.4% growth expected in 2015 - up from its previous 2.5% forecast - before growth falls to 2.7% in 2016.
Over the three years from 2014-2016, Experian forecasts total construction output to rise by 7.3%, which is equivalent to an £8.5bn increase in output.
This is marginally less than the Construction Products Association's (CPA) revised forecast, published earlier this week, which anticipates growth of 9.9% between 2014-2016 – or around an £11.5bn increase.
Experian said infrastructure would be the biggest growth sector over the period, rising 24% between 2013-2016, with total output expected to hit a record high of £16.4bn in 2016.
The infrastructure growth is expected to be driven by transport and energy projects.
The other major growth area is expected to be housing, with private housing rising 11.2% between 2014-2016, and public housing rising 5%. Largely due to increasing levels of private finance, rather than public spending.
Experian said: "Given the more robust economic recovery, prospects have brightened for construction as we have been awaiting a sustained return to growth in the private sectors to balance the effects of expenditure cuts in the public ones.
"The strongest growth in 2014 is expected in the housing sectors – public and private – and in infrastructure, with all three expected to show double-digit percentage increases."
Experian remained cautious about prospects for the commercial sector, construction's largest, despite a surge in growth in Q3 last year, with the forecast warning the outlook for retail and leisure subsectors remains "muted".
Experian anticipates growth of 9.2% in the commercial sector from 2014-2016.
Experian said: "Despite the sudden surge in output in the third quarter of last year we are remaining fairly cautious about the prospects for the sector, although at least it is showing some growth.
"The office development pipeline in London seems strong and there has been a return of speculative development in some regional markets in recent months, a trend that is expected to strengthen over the next 12 months.
"The office subsector is expected to be the strongest in the commercial sector over the forecast period. The outlook for retail and leisure is more muted. Retail sales growth has tailed off somewhat and the rise of online retail continues apace, further eroding the need for a high street presence."
Experian said the weakest sector would remain public non-residential, as the government's austerity programme continued to impact on education, health and other public projects, with the sector expected to contract by 2.3% between 2014-2016.
Experian's revised forecast follows the CPA's earlier this week, but comes amid disappointing Office for National Statistics figures which showed the recovery stalled slightly in November and a warning from the RICS that labour and materials shortages were holding back growth, particularly in sectors connected to housebuilding.
UK construction winter forecasts
2012 (actual)
2013 (est.)
2014 (forecast)
2015 (forecast)
2016 (forecast)
CPA
Experian
CPA
Experian
CPA
Experian
CPA
Experian
Private housing
-2.2%
9%
9%
10%
10%
10%
8%
5%
3%
Public housing
-16%
4%
4%
0%
10%
3%
5%
4%
0%
Infrastructure
-11.4%
1.40%
2%
6.8%
10%
9.5%
9%
11%
3%
Commercial
-11.5%
2.7%
4%
2.4%
3%
6%
4%
4.5%
5%
Public non-residential
-21.8%
-7.6%
-7%
-0.6%
-3%
0.8%
-2%
2.2%
0%
Total R&M
-1.5%
-0.4%
1%
1.2%
1.7%
2.4%
2.9%
2.3%
1.8%
Total output
-7.5%
1%
2%
3.4%
4.2%
5.2%
4.4%
4.4%
2.7%