Payment for completed works still up in the air for huge number of suppliers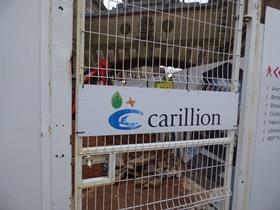 Insurers are set to pay out £31m to suppliers hit by the failure of Carillion.
The figure from the Association of British Insurers (ABI) relates to trade credit policies, which cover firms against the risk of not being paid for goods or services that they provide following a company going bust.
But with Carillion having 30,000 suppliers at the time of its liquidation last week a huge number of firms in the supply chain remain in limbo as to whether they will be paid for works completed.
Mark Shepherd, assistant director and head of property, commercial and specialist lines, at the ABI, said: "For all businesses, large or small, bad debt could easily put their day-to-day operations at risk, threatening the jobs of their employees.
"One insolvency can risk a domino effect to hundreds of firms in the supply chain."
This comes as piling specialist Van Elle said it was preparing to write off £1.6m of bad debt for a series of Network Rail jobs for Carillion following the contractor's collapse.
It said the debt pile had built up after 31 October and admitted it was facing up to the fact that it was unlikely it would recover the money following talks with liquidator PwC.
The firm said Carillion going bust meant the firm might not meet previous market expectations as a result.
Earlier this week engineering trade groups revealed dozens of M&E firms were counting the cost of Carillion's implosion with many owed an average of close to £250,000 each.
The survey, which was carried out by the Building Engineering Services Association and electrical contractors body ECA, said businesses with less than 10 staff are owed on average £98,000 – with one owed £250,000 – while firms with between 10 and 49 employees owed £141,000 on average, with one owed £800,000.