Contractor combines UK and international construction arms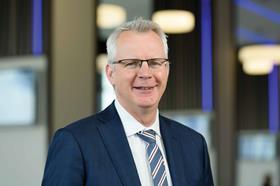 Interserve's UK boss is leaving at the end of next month under the firm's ongoing rejig of its business.
Gordon Kew goes after less than two years in the post and will be replaced by George Franks who runs the firm's international construction business.
Interserve said Franks will be in charge of a new construction division which will combine both its UK and overseas arms.
Earlier this year, Kew (pictured) told Building that the firm had underestimated the complexity of schemes in the energy-from-waste sector, which has so far cost Interserve more than £220m.
He said: "We went into a new sector that we'd thought we'd prepared for and clearly we hadn't. Our order book got full very quickly. It's been a sobering experience."
Interserve also said it was folding its international FM business into its UK support services division.
Chief executive Debbie White said: "Bringing our UK and International construction and support services businesses together will help us to reduce complexity, support the transfer of people and skills and develop a clear and consistent value propositions for customers wherever they are in the world."
Cenkos analyst Kevin Cammack said: "The official line is 'simplification' and 'efficiency' but the missing phrase is cost savings I fancy."
Interserve says it expects to complete its remaining energy-from-waste contracts by the end of the year.
The firm has recently pulled out of the London building market and in its interim results published earlier this month, the firm said the decision had cost it £6.5m although Interserve said it would continue to carry out fit-out work in the capital through its Paragon business.