But sources close to largest shareholder say firm will definitely vote against the rescue deal on Friday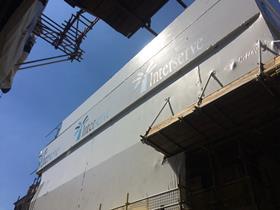 Interserve has held talks with the largest owner of its stock as it fights to stave-off a shareholder rebellion which could see it plummet into administration by the end of the week.
But sources close to Coltrane Asset Management insist nothing has changed. They said: "We note that the company is trying to secure our support.
"The fact that they are having to do so reflects their failure to secure the support of enough holders of the other 72% of the company's shares – and therefore the weakness of their proposal."
Coltrane currently owns 27% of the company but has vowed to vote against the firm's proposed rescue deal – which would hand its lenders a 95% stake in the company – at a general meeting on Friday.
Interserve has previously refused to acknowledge an alternative rescue deal put forward by Coltrane, which would see lenders take just 55% of the company in a debt-for-equity swap, while further cash is raised through a £110m rights issue underwritten by Coltrane.
Now the contractor has admitted it has "been in discussions with Coltrane and its lenders which have sought to establish the basis on which Coltrane would support the company's restructuring proposal".
Sources close to Coltrane said: "We've been keen to discuss [our proposal] but have been frustrated by the company's refusal to engage, its limited disclosure of essential financial information and by the attitude of lenders."
"We haven't seen anything from the company that materially changes matters."
Interserve has repeatedly said the only rescue deal on the table is its deleveraging plan, with chair Glyn Barker and chief executive Debbie White saying the firm could enter a pre-pack administration, overseen by EY, as early as this Friday if the deal does not pass.
Coltrane will be joined in voting down the deal by Dutch hedge fund Farringdon Capital Management, which owns 6.2% of Interserve.
Interserve needs 50% of shareholders to approve its rescue deal but it is thought that rebels' 33% stake may be enough to block the plan, depending on the turnout of other shareholders at Friday's meeting.
Around 30% of Interserve shares are held by retail investors or passive investment funds, both of which tend not to vote at general meetings.