Chief executive and chairman break silence to urge shareholders to back its plan – and dismiss US hedge fund's alternative
Interserve has said that if it loses this Friday's shareholder vote on its rescue plan it faces going into administration the same day.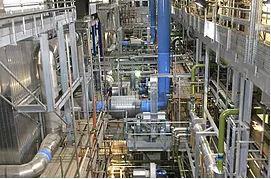 The warnings were made in weekend newspaper interviews given by the firm's chief executive and chairman who broke their media silence in an attempt to shore up shareholder support for their plan – and at the same time ask shareholders to reject an alternative proposal by its biggest shareholder.
Debbie White said that accountant EY will take over as administrator of the firm if this Friday's vote is lost.
Trading entities, staff and contracts will transfer to a new, unlisted company that will emerge a week today. "It will be business as usual on March 18 for all of our staff, clients and suppliers," she told the Sunday Times.
And in a separate interview, Interserve chairman Glyn Barker told the Sunday Telegraph: "If we lose, we run out of liquidity. To continue operating we need to raise money and we won't win any more work unless we get these debts down."
He added: "People shouldn't assume that there are months or even weeks [left] without additional borrowing facilities."
White also used her interview to criticise her predecessor Adrian Ringrose who was in charge of the business when it made its disastrous foray into the energy-from-waste sector which has seen it rack up crippling losses on a number of deals including those at Glasgow and Derby – which has so far blown a £230m hole in its accounts.
She said: "In energy-from-waste, rather than just take construction risk, they [Interserve] also took process risk. Interserve did not know anything about those processes. We did not have the expertise."
White and Barker were speaking just days after Interserve's largest shareholder unveiled a new proposal to rescue the contractor – only for Interserve to reject it 24 hours later.
Last Tuesday, Interserve said it could not consent to Coltrane Asset Management's request "without risking the future of Interserve together with its employees, pensioners, customers and suppliers".
Under its plan, Coltrane, which owns a 27% stake in the contractor, wants creditors to take just 55% of equity in Interserve in exchange for writing down £435m of its debt.
Shareholders would hold on to a 7.5% stake in the firm, with a further 37.5% equity in Interserve created through a £110m rights issue – which Coltrane has offered to fully underwrite.
Interserve's proposal would see £435m of debt written down but in exchange for handing 95% of the firm to its lenders with the remainder kept by shareholders. Its original package proposed handing just 2.5% to shareholders.
The Sunday Times reported that Coltrane is preparing to begin legal action against Interserve for what it claims are disclosure claims and unfairly favouring lenders over shareholders. Interserve declined to comment.