The £105m project originally had a pricetag of £85m and was due to start in April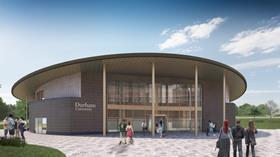 A £105m project in which a consortium being led by Interserve is to finance, design, build and operate two colleges for Durham University, with accommodation for a thousand students, is suffering major cost overruns and delays.

Interserve, who was announced as the preferred bidder on the scheme last October, announced today that financial close on the deal has been reached.
It is leading a consortium including fund and asset management firm Equitix and student accommodation developer and operator, Campus Living Villages UK (CLV).
Interserve will be responsible for designing and building the two new college facilities as well as a university hub building with a 300-seat banquet hall, sports and music facilities, which will sit between the two colleges.
Work will commence shortly, with the scheme due to be completed in 2020, according to today's announcement.
The development will be on the former Mount Oswald golf course on a site just to the south of Durham.
But the £105m cost of the scheme is 24% higher than the £85m the university stated it would cost less than a year ago.
In addition, construction is already several months behind schedule.
It was supposed to have started in April this year, in a timescale which would see students moving into the new accommodation from next September, according to the university's plans for the development.
Off-site manufacture will be used in much of the construction. For instance, student flats will be made from a concrete twin wall system manufactured in Scunthorpe. Bathrooms will be manufactured as pods in south-west England and on completion will be craned into the buildings to be plumbed in.
Facilities management services, such as rubbish and recycling collections, cleaning and maintenance, will be provided by CLV in a contract set to run for 51 years.
In today's announcement, Debbie White, Interserve's chief executive, said: "We are delighted to have reached financial close on this project and look forward to starting on site imminently."
And Professor Stuart Corbridge, Vice-Chancellor at Durham University, said: "The development of two college facilities at Mount Oswald, including one brand new College and a purpose-built new home for our John Snow College, is a key project in delivering a wider student experience as good as anywhere in the world."
Interserve and Durham University did not respond to requests from Building for comment on the costs overruns and delays.