Director of transformation to start next month as firm lands £35m cancer centre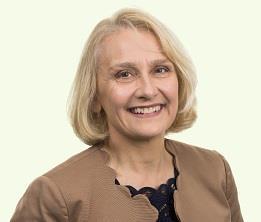 Debbie White's rejig of her management team at Interserve continued this week with news that she is bringing in a director of transformation.
The firm is the latest high-profile contractor to create such a role after Carillion said in September it had hired Ernst & Young partner Lee Watson as chief transformation officer.
White, who has been in charge of Interserve since the start of September, said Sally Cabrini will join the troubled firm next month after carrying out a similar role at water firm United Utilities.
Cabrini (pictured), who will take a seat on the main board, joined the utility 10 years ago as the firm's HR operations director.
White is shaking up her senior executive team as she gets to grip with near £200m losses at its energy-from-waste business, falling margins at its support services arm and a redundancy programme which is expected to see 200 posts go in a first wave.
She said: "Sally is an experienced senior leader who has a strong track-record of getting the best out of people and technology."
Earlier this month, the firm said the boss of its support services business Bruce Melizan was leaving next month after 15 years at the company.
Cabrini's appointment comes as Interserve will begin work next month to build a new £35m cancer centre in Liverpool's Knowledge Quarter.
The two-storey Rutherford Cancer Centre North West (pictured) will be located within the £1bn Paddington Village development of scheme and will house advanced cancer care treatments, including high energy proton beam therapy.
Conventional treatments will be available from next year and high-energy proton beam therapy will be available from 2019. It is anticipated that the centre will treat up to 500 patients a year.