ISG's UK construction business has posted an 18% rise in revenue to £280m, with margin of 0.2% generating profit of £700k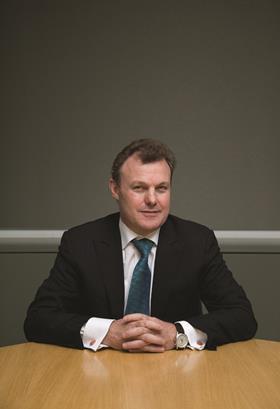 Reporting its interim results for the six months to 31 December 2012, ISG Group reported revenue of £659m, up 6% on the same period in 2011, generating pre-tax profit of £2.2m, down 1% on 2011.
But the firm's construction business continued to struggle, posting revenue of £280m, up 18% on 2011 - a rise the firm attributed to its London 2012 overlay works contract - but with an operating profit of £700k, up from a loss of £518k for the same period in 2011, and an operating margin of just 0.2%.
The firm said the strategy of its construction business was to focus on repeat customers and frameworks.
It said the market "remained competitive and we have seen particularly tough trading conditions in our East region where we are in the process of a reorganisation to reflect current market conditions".
It said its construction order book was up 8% to £409m, of which £238m is for delivery in the current financial year - down 11% on the same period last year.
"Hence we anticipate that revenue in the current financial year will be lower than [the] prior, with margins continuing to be under pressure," the firm said.
The firm's UK fit-out business performed better, posting a rise in revenue of 29% to £119m, with a margin of 1.7% generating operating profit of £2m (2011: £2.3m).
The UK retail business posted fall in operating profit of 13% to £2.6m, on reduced revenue of £164m, down from £185m in 2011.
ISG chief executive David Lawther said: "ISG has delivered an improved performance and growing order book despite the continuing market challenges in Europe.
"In the UK, we have maintained our market leading positions in the office fit out and retail sectors, while our Construction business has increased its level of repeat work through its focus on key customers and frameworks.
"We have continued our progress into the engineering services and hospitality sectors, securing another major project in the period. Overseas, we continue to enhance our reputation and anticipate seeing growth in the second half.
"We will continue to manage our cost base, to target growth sectors and to invest in our overseas businesses."
ISG interim results
UK Construction
Revenue increased by 18% to £280m (2011: £237m) on the back of London 2012 Games overlay works contract, generating an operating profit of £0.7m
Strategic focus is on repeat customers and frameworks
Market conditions remain challenging - in process of reorganising UK East region
Order book increased to £409m (2011: £377m) and now weighted 65% towards private sector (2011: 58%)
UK Fit Out
Operating profit of £2.0m (2011: £2.3m) on revenue of £119m (2011: £92m)
London office fit out market remains competitive, with project sizes smaller, but larger scale projects beginning to re-emerge
Increased revenue from growing engineering services market
Order book up 83% to £170m (2011: £93m)
UK Retail
Operating profit, as anticipated, decreased to £2.6m (2011: £3.0m), on reduced revenue of £164m
Business has maintained its market leading position and margins are stable
Substantial work under frameworks carried out for the leading major UK supermarket and retail banking brands
Order book lower at £102m (2011: £148m) reflecting decrease in investment in new build projects by retail customers
Continental Europe
Operating profit of £1.1m (2011: £1.3m) on revenue of £51m (2011: £53m)
Office fit out business saw France and Germany performing well, but Italy weaker
Retail fit out business continuing to grow, working for several repeat customers
Order book lower at £26m (2011: £49m); since period end awarded £15m of projects
Middle East and Africa
Later project starts have again impacted the first half results
New office in Johannesburg opened
Order book up 100% from prior year to £20m supports a stronger second half
Asia
Operating profit maintained at £0.7m (2011: £0.7m) reflecting higher margins despite lower revenue of £35m (2011: £47m)
North Asia driven by strong retail, hospitality and leisure sectors
South East Asia, successfully diversified into hospitality and leisure sector
Continue to invest for growth in our consulting businesses
Order book higher at £39m (2011: £27m) supporting stronger second half activity in South East Asia