Firm posts slightly improved margin as it reorganises its UK construction business in bid to improve efficiency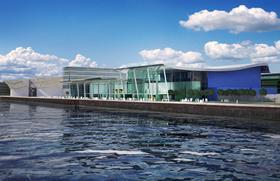 ISG is reorganizing its UK construction business into three regions in a bid to drive down costs and improve its margins as the firm gears up for an upturn in the market.
Reporting its results for the year to 30 June 2013 this morning, the firm posted revenue in its UK construction business of £538m, down 3% on the previous year (2012: £554m), with an operating profit of £1.1m.
This gave the business an operating margin of 0.2%, a slight improvement on 0.1% last year.
However, the firm said it was now reorganizing the UK construction business into three regions "in order to optimise operational efficiency".
The firm said its UK Construction order book stood at £391m, level with last year, (2012: £390m), of which £338m is for delivery in the current financial year (2012: £335m).
The firm added: "We would anticipate revenue for the current financial year being slightly below prior year, however we are targeting to improve margins."
ISG said it had incurred £3.1m in costs following a reorganization of the UK construction business in the South-west and the South-east last year, as well as consolidation of its retail operations into a single management structure.
ISG chairman Roy Dantzic said: "Notwithstanding that the market for our UK Construction business remains highly challenging, the business achieved a modest improvement in profitability.
"However, we are taking significant steps to restructure with the aim of improving margins further and reducing costs. These actions are expected to underpin improved performance in the future."
Revenue across the group remained flat at £1.28bn (2012: £1.28bn), but pre-tax profit across the group more than doubled to £2.5m (2012: £1.2m).
The group's underlying operating profit, before the deduction of accountancy costs and the £3.2m in restructuring costs, stood at £15.4m (2012: £13.2m), giving an underlying operating margin of 1.2%.
The firm's fit-out and engineering business reported revenue of £288m, up 42% on last year (2012: £202m), with £88m relating to overseas engineering work.
Operating profit in the business rose to £5m (2012: £3.9m), giving an operating margin of 1.7%, slightly down on 1.9% last year, which the firm said was "a reflection of the continued competitive pressures in the market".
The retail business posted revenue of £267m, down 17% on last year (2012: £323m), with the firm saying the sector was "particularly affected by the UK economy".
However, operating profit in the business rose 10% from £5m last year to £5.5m, giving an improved operating margin of 2.2% (20212: 1.6%).
David Lawther, ISG chief executive, said: "ISG has delivered an improved performance and growing order book.
"In the UK, we have seen signs of improvement in the London office fit out market and have maintained our market leading positions in the office fit out and retail sectors.
"We have had considerable success in the data centre sector. Our UK Construction business has increased its level of repeat work through its focus on key customers and frameworks.
"Overseas, our businesses are performing well and we are entering new markets and strengthening our existing presence through selective acquisitions.
"We are looking forward to the future with growing confidence."
Meanwhile, ISG has appointed James Weekes as a divisional director in its fit-out business.
Weekes will head up the projects team in the business, with a focus on projects up to a value of circa £1.5m.