Designed by McInnes Usher McKnight Architects (MUMA), the project features two new wings and a restoration of the original building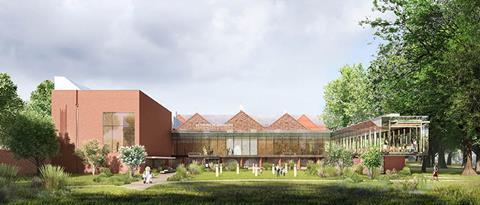 A £15m redevelopment of Whitworth Art Gallery, designed by McInnes Usher McKnight Architects (MUMA), will reopen to the public in September next year.
ISG, the main contractors, were awarded the contract in spring 2012.
A key feature of the project is a two-storey, cantilevered glass extension out into Whitworth Park.
A second new wing, made of brick, includes a new landscape gallery and a study centre. The wing, running along Denmark Road, features views across the park from the first floor. The two wings connect via a glass promenade gallery.
Refurbishment of the existing building will allow for better access and displaying large sculptures. The building's 19th century ceilings will be revealed, while the Grand Hall on the first floor will be recovered.
Work commenced on the Manchester gallery in November 2012. It was closed to the public on 1st September 2013, at which point ISG were able to carry out more intensive work.
The project has been funded by a multitude of sources, including an £8.5m grant from the Heritage Lottery Fund and £1.8m from Arts Council England Strategic Funds.
Stuart McKnight, MUMA, says: "The brief for Whitworth Art Gallery offered a unique opportunity to capture the qualities of the surrounding landscape. The extension not only connects with the park, creating an outdoor gallery – an Art garden – it also acts as a pressure relief allowing us to reconfigure and rationalise the existing building. In this way, whilst we are extending the building by one third, we are actually doubling the area available to the public."
Alan McCarthy-Wyper, Managing Director of ISG's construction business, commented: "The project plays to our significant strengths restoring historical buildings and we are delighted to be playing a key role in securing the future for this nationally renowned institution."