Contractor tipped for Great Portland Estates' City Tower re-fit
Contractor ISG is tipped to win the Great Portland Estates job for a re-fit programme to the developer's City Tower in the City of London, according to two sources close to the deal.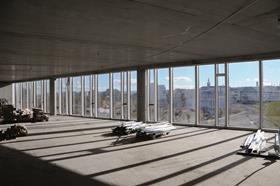 The job, which is thought to be worth £15m-20m, to refurbish 80,000 ft2 of the 19-storey building, at 40 Basinghall Street. It is owned jointly by Great Portland Estates and investment firm Starwood Capital.
The news follows a profit warning at the turn of the year. The contractor last month won a six-year appointment to a £1bn framework for the Ministry of Justice to build, maintain and alter new prisons.
ISG declined to comment.