Firm to get started on makeover of bank's global hub by end of year
ISG has won a prized £100m-plus deal to revamp the Canary Wharf global headquarters of Barclays Bank, Building can reveal.
The firm, which declined to comment, beat Overbury to the job which will see the 30-storey One Churchill Place given a major makeover starting by the end of this year.
More than 2,000 people work at the building with the first part of ISG's deal expected to centre on revamping the trading floors at the tower which was designed by HOK and completed by Canary Wharf Contractors in 2004.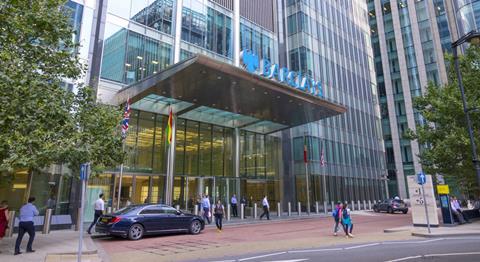 In February, the bank's chief executive Jes Staley said he expected his largely homebound bankers to return to their offices this year. At the height of the lockdown earlier this year the firm said around three-quarters of its 80,000 staff were working from home.
ISG's contract marks a continuation of the relationship between the contractor and Barclays which is seeing the firm complete work on a series of buildings for the bank in Glasgow.
Drum Property Group agreed a multi-million pound deal with Barclays in July 2018 to develop a new state-of-the art campus headquarters for the bank at Drum's development at Buchanan Wharf on the banks of the river Clyde.
It will create space for more than 2,000 staff making the bank one of Glasgow's biggest commercial employers.
ISG has won a string of high-profile fit-out deals this year including the new UK headquarters of US tech giant Facebook in King's Cross and across London the £75m deal for Apple's new office at the Battersea Power Station redevelopment.