Press reports say housing secretary also considering £2bn developer levy
Housing secretary Robert Jenrick is expected to announce £5bn of funding to pay for the removal of dangerous cladding on high rise buildings later today, amid growing clamour over the fate of homeowners trapped in dangerous and unsellable flats.
The government has not yet confirmed details of the announcement, which is expected after prime minister's questions this afternoon, but it could include the introduction of a £2bn levy on developers, according to the Guardian newspaper.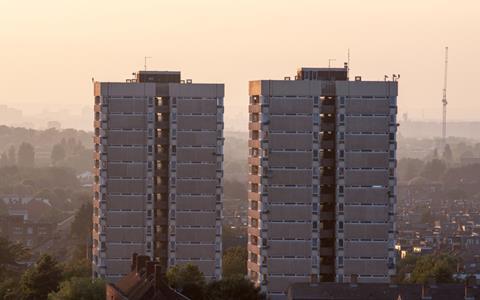 It has been widely reported that the expected £5bn fund will be used to address dangerous cladding – both ACM and other types – on buildings of more than 18m in height.
The announcement comes amid growing pressure on the government, which has so far allocated just £1.6bn to address building safety problems that have emerged in the wake of the Grenfell Tower tragedy, which MPs have estimated will take around £15bn to fix.
So far, the government has said its money can only be used as a backstop where developers and building owners cannot fund necessary works but that in principle the taxpayer should not be expected to bail out the construction industry.
It is not clear whether the £5bn figure that has been widely reported will be in addition to the existing £1.6bn of funding or will top up existing funding to that amount.
The Guardian has reported the government is also considering a £2bn levy on property developers and builders over the next decade, charged at £200m a year.
Barratt chief executive David Thomas last week became the first boss of a publicly listed housebuilder to back the idea and this morning Matthew Pratt, the chief executive of Redrow, which is having to carry out remedial work on around half a dozen blocks, said: "We're not unsupportive of a levy but what is it going to cover in terms of the building itself?"
Building's sister title Housing Today last week reported a government announcement was expected on the issue, after Labour called on it to urgently change course, with dozens of Tory MPs backing amendments to the Fire Safety Bill designed to protect leaseholders from the costs of replacing cladding.
Leasehold campaign groups have already expressed frustration at the suggestion that other building safety issues – such as cavity fire stops and fire doors – and homes lower than 18m in height, will not be covered by the new funding.
Sebastien O'Kelly of the Leasehold Knowledge Partnership said if the press reports were true, the announcement would be a "bitter disappointment for leaseholders everywhere" and that it was "shameful to treat leaseholders differently depending on an arbitrary factor like building being height".
The news comes as housebuilder Persimmon said it was allocating £75m to address potential fire safety issues identified in 26 blocks built by the group, including nine high-rises above 18m in height and 17 smaller buildings.
The firm said the legal responsibility for fixing the problems remained with the building owners but that "if a building owner fails to step up and accept their responsibilities, Persimmon stands ready to provide the support necessary to make sure the work is done".