Building believes no money to change hands on either side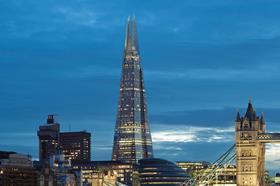 Contractor John Sisk & Son and Shangri-La Hotels have reached an out of court settlement over their multi-million pound High Court dispute over major delays to the fit-out of the Shard's luxury hotel.
In June, Shangri-La hit John Sisk & Son with a £57m High Court claim over problems on the £39.2m fit-out of its flagship European hotel - which ultimately opened a year late last May. John Sisk & Son hit back a month later with a vigorous defence and a £26.8m counterclaim.
In a joint statement issued this morning both client and contracotr say they have "reached an amicable settlement to the claims and counterclaims", adding: "There are no admissions of fault or liability by either party in the settlement reached".
Building believes that the settlement is a so-called "walk-away" deal, with no money changing hands on either side. If true, this would mean effectively that both parties would have to absorb costs already incurred on the contract and legal action, but that the risk of incurring further costs related to the case disappears
Shangri-La had sued Sisk for £57m over its alleged mismanagement of the fit-out, which caused sections of the work to fall up to 37 weeks behind schedule and ultimately led to the hotel opening a year late last May.
Sisk's contract was terminated in August 2013 and it was replaced by rival fit-out firm Chorus.
Sisk subsequently hit back at Shangri-La with a £26.8m counterclaim, denying Shangri-La's £57m claim "in its entirety" and arguing that Shangri-La's decision to terminate its contract and replace the firm "amounted to a fundamental breach of contract" resulting in "significant loss and damage" for Sisk.