Contractor removed from fit-out responds to court claim over flagship project with £26m counterclaim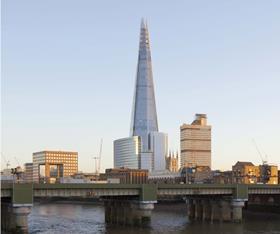 Contractor John Sisk & Son has hit back at luxury hotel brand Shangri-La with a £26.8m counterclaim in the firms' High Court battle over major delays to the £39.2m fit-out of the chain's hotel in the Shard.
Shangri-La's flagship London hotel ultimately opened a year late last May.
Sisk has lodged its defence and counterclaim in the High Court, in response to the £57m claim lodged against it by Shangri-La in May this year.
In its claim, Shangri-La alleged Sisk's mismanagement of the fit-out caused sections of the work to fall up to 37 weeks behind schedule. Sisk's contract was terminated in August 2013 and it was replaced by rival fit-out firm Chorus.
In its defence, Sisk denies Shangri-La's £57m claim "in its entirety" and argues Shangri-La's decision to terminate its contract and replace the firm "amounted to a fundamental breach of contract" resulting in "significant loss and damage" for Sisk.
Sisk alleges the cause of delays on the project was Shangri-La's "incomplete and seriously deficient" design for the fit-out, which it claims caused Sisk "delay and disruption throughout its works". Sisk argues it should have been entitled to an extension of time to March 2014 to complete the job.
The contractor denies Shangri-La is entitled to "the relief claimed or any relief". It also argues Shangri-La's claim for £57.4m in compensation - which the chain claimed for additional costs for completing the works and rectifying Sisk's allegedly defective work, delays to the hotel opening, and financing costs - is inadequately accounted for in Shangri-La's claim and, Sisk argues, "amounts to an abuse of [legal] process".
Sisk's £26.8m counterclaim includes money for contract variations, £1.1m for procured materials it claims have not been paid for, £1.2m for sums Shangri-La allegedly deducted for allegedly defective tile installation, £1.9m for liquidated damages Sisk argues Shangri-La unlawfully deducted and £838,000 in allegedly unpaid retentions.
When contacted by Building, both Shangri-La and Sisk declined to comment on the ongoing court proceedings.
Central to Shangri-La's claim was the allegation Sisk defectively installed marble wall tiles in guestrooms across 15 levels of the Shard hotel between November 2012 and August 2013, and it described Sisk's installation progress during the period as "illusory". Shangri-La further alleged the defective installation arose because Sisk failed to remove the temporary resin mesh backing from the underside of the tiles before fixing them, which meant they didn't stick properly to the Aquapanel substrate for the walls. Sisk denies its progress in installing marble wall tiles was "illusory". It claims the tiles were "installed in accordance with the requirements of the contract" and that removing the backing would have in fact made the installation "unworkable".
Shangri-La also claimed Sisk failed to procure some materials, including mother of pearl stones for the hotel's front of house washroom panels, and alleged it attempted to conduct a credit check on the named supplier, Compact Enterprises, for the stones in March 2013 but accidentally carried out the check on a different company which was no longer trading. It claims it only learned of Sisk's error in July that year.
However, Sisk says it made Shangri-La aware on 28 March 2013 that the supplier had stopped trading.
The case is ongoing.