Proposed 26-storey structure will be tallest office outside of London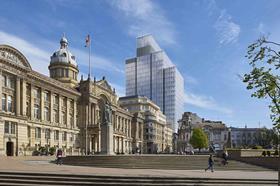 Joint venture partners Sterling Property Ventures and Rockspring have submitted plans to build Birmingham's tallest office tower.
The joint venture is looking to demolish the Natwest Tower and put the new £60m, 26-storey structure in its place. If approved, the Doone Silver-designed office will be the tallest outside London at 346ft high.
It will create 500 construction jobs and house 2,000 workers once completed.
Work is expected to start on site as soon as permission is granted to knock down the NatWest Tower and the project is set to be completed by early 2018.