Developer hires architect Buckley Gray Yeoman for Square Mile work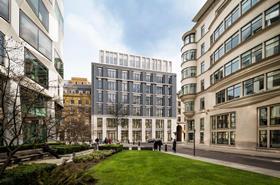 Developer Kajima Properties has been given planning to revamp a Square Mile office block that will also carve out a new pedestrian route between two busy City of London streets.
The plans will see the extensive remodelling of 77 Coleman Street into a 7,600 sq m office-led development.
Architect Buckley Gray Yeoman has drawn up plans for the site which will see a new public thoroughfare, Nun Court, connect Coleman Street and Moorgate.
Retail and leisure will be located on the ground floor while a two-storey roof extension will add more office space. Work is expected to be completed in 2019.
The developer, which has a UK sister firm specialising in PFI, is part of the Kajima Corporation based in Tokyo.