Watchdog warned against abandoning safety measures brought in two years ago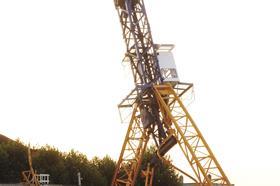 Campaigners have told the Health & Safety Executive that regulations covering the safety of tower cranes should be strengthened not scrapped.
Earlier this month, the Health & Safety Executive (HSE) closed its consultation over the proposed axing of the two-year-old tower crane register, which requires firms to notify it whenever a tower crane is erected and confirm that it has been thoroughly examined.
Campaigners, including the mother of a 23-year-old killed in the 2006 Battersea crane disaster, said this week that they have told the HSE to reverse its stance on the register, one of 14 regulations it is intending to scrap because they have "no direct health and safety benefits".
Liliana Alexa, whose son Michael was killed when the Battersea tower crane collapsed on the family's block of flats, called on the HSE to re-think.
Alexa helped set up the Battersea Crane Disaster Action Group, which - alongside Building magazine - campaigned for the establishment of the register.
"It would take a fool to believe that there are no health and safety gains from registering tower cranes," she said.
She added: "This legislation has taken years to get passed and is a good, helpful piece of health and safety law."
A spokesperson for the health and safety network Hazards Campaign said it too had objected.
"The regulations should be strengthened not abolished," she said. "The […] regulations are not the stringent regulation, including crane MOT, effective training and independent inspection demanded by campaigners.
"But they are a basis that could be built upon."
However, others, including the UK Contractors Group and crane driver and campaigner Terry Duxbury, said the register does nothing for safety standards.
Duxbury said a far stronger system was needed which covered maintenance and involved independent monitoring.
"The industry cannot be self-regulating because corners will be cut," he said.
Earlier this month, safety campaigners mounted a protest in Whitehall over the proposed abolition of the register.