Firm enters £800m partnership with Sigma Capital Group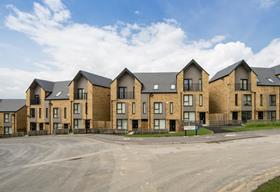 Keepmoat has announced plans to build 5,000 homes for the private rental sector (PRS) in a new £800m partnership with investor Sigma Capital Group.
The joint venture represents Keepmoat's first development activity in the PRS market and will see 'thousands' of homes built across the North West, Yorkshire, the Midlands and north of London.
Keepmoat and Sigma are targeting over 1,000 construction starts in these locations over the next 12 months, with the homes designed and built by Keepmoat and lettings and investment management undertaken by Sigma.
Keepmoat chief executive Dave Sheridan said: "This is a significant milestone for our business, and we are proud to be working alongside Sigma to scale-up their PRS growth ambitions.
"The partnership will deliver great quality market rented homes alongside our Keepmoat homes for sale, which will allow the pace of housing delivery on strategic sites to be increased, to deliver the government's aspirations and provide people across the country with much-needed housing options.
"There is an inherent need for more housing across the country, and we are looking to tackle the issue head on."