Former housing strategist for US president says extra levy on home sales to institutional investors is a 'mis-signal'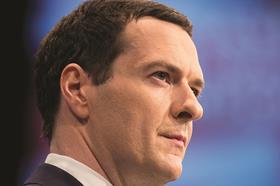 One of Barack Obama's former leading housing strategists has criticised chancellor George Osborne's decision to slap a tax on corporate investors in private rented housing, claiming it will put people off of pumping in money.
Mark Linton said last week's move – which caught most of the property industry off-guard and will see an extra 3% charge levied on every sale of a home to an institutional investor – had left many "scratching their heads".
The former chief of staff for the US department of housing and urban development was attending the Mipim property fair in France last week as a guest of UK Trade and Investment, which has begun a promotional drive to woo overseas investors to the UK private rented sector (PRS).
Whatever tax scheme is in place, you make it as easy as possible to make sure people invest

Mark Linton, Linton Strategies
The UKTI's head of projects & finance, Paul Marsh, said: "We see the development of PRS as an institutional asset class as vital to attracting the type of funding that will enable build to rent to play a significant role in the supply of housing in this country."
But Linton told Building that Osborne's (pictured) move would now make investors think twice. "It does seem a little like a mis-signal," he said. "If you're going to do that from a revenue perspective, my question would be to make sure that whatever tax scheme is in place, you make it as easy as possible to make sure people can invest in redevelopment and affordable housing."
Among the critics of Osborne's plans were the British Property Federation, whose chief executive Melanie Leech called the tax an "out-of-the-blue raid on commercial property transactions".
And Elizabeth Bradley, head of the corporate tax team at international law firm Berwin Leighton Paisner, said: "The extension of the extra stamp duty rate on buy to let to large investors will discourage investment in the private rented sector."
Linton also claimed "immorally" high levels of rents in both the UK and US coupled with wage stagnation has led to the rise of controversial politicians such as Donald Trump - the frontrunner for the Republican nomination in this year's US presidential election.
Spending over 60% of their monthly income on rent had left people feeling frustrated, he said, adding: "A fraction of voters are misplacing their frustrations by voting for Trump."