Groundworks firm sees first half profit slide by 40%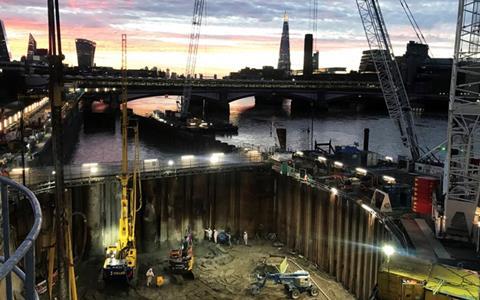 Keller is pinning its hope for 2019 on a stronger second half after seeing pre-tax profit for the first half of the year slump by 40%.
Reporting its first half results the groundworks specialist said despite a weaker start to the year the numbers for the six months to the end of June were expected, having restructured its loss-making Asia business and revamping its North American operation.
Keller, which recently worked on the Thames Tideway project in London (pictured), reported first half turnover flat at £1.1bn, with statutory pre-tax profit sliding from £35.9m to £21.7m. Operating profit fell by nearly a quarter to £32.5m.
Net debt rose 14% to nearly £420m.
Keller's Asia business reported total revenues down by more than a third, driven in part by softer market conditions and a restructuring programme which reduced its activity in the region, while its Australian operation saw turnover down 43%.
Last month Keller announced it would cease operations at its Australian Waterway business in October this year, blaming "insufficient profitable work and prospects to cover on-going costs".
The firm's businesses in South Africa and Brazil were still operating in tough conditions and Keller said it anticipated taking further action to reduce costs in the second half.
Keller has also overhauled its North American business, with the new structure coming into effect in January next year.
Chief executive Alain Michaelis said revenue for the year was expected to be flat, but with a stronger second half would come an improvement in margin.
"The first half of the year has been a period of significant activity for Keller, implementing a series of group-wide improvements.
"Recent trading means we are entering the second half of the year with good momentum and expect a stronger second half performance, supported by a robust order book," he added.