Firm pays $90m for New Jersey contractor Moretrench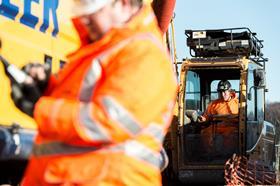 Ground engineering specialist Keller has wrapped up its deal to buy US firm Moretrench for $90m (£64m)
The geotechnical contracting firm is based in New Jersey and operates mainly along the east coast of the US. At the end of last year it had turnover of $168.3m (£120m) and operating profit of US$11.3m (£8m).
Keller said it will be "by far the most capable geotechnical solutions provider on the east coast and will be very well positioned for the expected long term renewal of infrastructure in the region".
The pair have worked together on schemes in the past which Keller said "gives confidence in the mutual compatibility of culture and management approaches".
Chief executive Alain Michaelis added: "I am confident this will be an excellent addition to Keller. We know the business well, its people, technologies and geographic focus complement Keller's existing businesses in the US."
Income at Keller hit a record £2bn last year despite a mixed year in its biggest market, North America after its business was hit by Hurricanes Harvey and Irma while an improved performance from its Hayward Baker geotechnical business was was offset by lower profits at other businesses including piling company HJ Foundation.
Pre-tax profit at the group was up to £110.6m from £73.9m in 2016.