Health and education departments fail to hit targets to slash the cost of their construction projects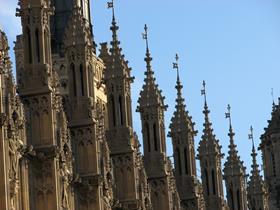 The health and education departments failed to meet government-set targets to slash the cost of their construction projects in the last financial year, according to government figures.
Each government department has been set yearly targets to reduce the cost of their construction projects, as part of a public sector-wide drive to cut construction project costs by 20%by the end of this parliament.
All cost reductions are measured against a 2009-10 base year.
The health department saved just 6.8%, or £15m, off the cost of its construction projects in 2012-13, falling short of its target of cutting costs by 9%.
The education department also fell short of its 2012-13 target, cutting project costs by 11.3%, or £86m, against a target of 17.8%.
The other five departments exceeded their cost-cutting targets for 2012-13 – some by large margins – with the transport department recording the largest cost reduction of 22%, or £278m, against its 4% target.
The government published the cost reduction breakdowns after revealing at Building's Government Construction Summit (GCS) last week that the public sector generated a total £447m of savings on construction projects in 2012-13.
In the breakdowns published on the Cabinet Office website, the government discloses the cost reduction targets for each department for each financial year up to 2014-15.
The justice and education departments have been set the most onerous target of achieving 20% construction cost reductions by 2014-15, while the communities and local government department – which includes the Homes and Communities Agency – has been set the most lenient target of 12% cost reductions by 2014-15, which it almost hit last year.
The Cabinet Office is implementing reforms across government to drive the cost of construction down, including the publication of cost benchmarks, the roll-out of building informationmodelling and the sharing of best procurement practice.
The reforms aim to make links across departments to allow the government to act as a single customer.
The government unveiled a new set of cost benchmarks for public projects at the GCS last week.
| | | | | | |
| --- | --- | --- | --- | --- | --- |
| | 2010/11 | 2011/12 | 2012/13 | 2013/14 | 2014/5 |
| Dep of Health / P21 | | | | | |
| Targets | 3.0% | 6.0% | 9.0% | 11.5% | 14.1% |
| Saving | | £22m | £15m | | |
| Actual | | 2.9% | 6.8% | | |
| | | | | | |
| Defra / Env Agency | | | | | |
| Targets | 0.0% | 3.8% | 7.5% | 11.8% | 15.0% |
| Saving | | £6m | £17m | | |
| Actual | | 3.6% | 8.7% | | |
| | | | | | |
| DfT / HA | | | | | |
| Targets | 0.0% | 1.0% | 4.0% | 10.0% | 17.0% |
| Saving | | £21m | £278m | | |
| Actual | | 16.0% | 22.0% | | |
| | | | | | |
| DCLG / HCA | | | | | |
| Targets | 1.0% | 2.0% | 4.0% | 7.0% | 12.0% |
| Saving | | £16m | £35m | | |
| Actual | | 11.0% | 11.7% | | |
| | | | | | |
| MoD | | | | | |
| Targets | 2.5% | 5.0% | 7.5% | 10.0% | 12.5% |
| Saving | | £4m | £0.6m | | |
| Actual | | 5.3% | 10.0% | | |
| | | | | | |
| MoJ | | | | | |
| Targets | 3.0% | 7.0% | 12.0% | 15.0% | 20.0% |
| Saving | | £12m | £15m | | |
| Actual | | 10.3% | 16.5% | | |
| | | | | | |
| DfE / EFA | | | | | |
| Targets | 3.3% | 7.0% | 17.8% | 18.9% | 20.0% |
| Saving | | £51m | £86m | | |
| Actual | | 12.2% | 11.3% | | |