May Gurney board to recommend £221m Kier bid representing a 35% premium over Costain offer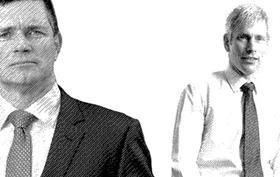 Kier has agreed terms for a recommended offer to buy May Gurney, trumping a rival bid by Costain.
Kier's offer of 315p per share values May Gurney at £221m – a 71% premium on May Gurney's share price and a 35% premium on the value of Costain's bid of 234p per share.
Kier said its offer would be a better fit than its rival's and could generate annual savings of £20m.
The deal would create a business turning over £2.6bn and result in around 200 job cuts from overlapping services.
May Gurney shareholders will own around 27% of the enlarged group once new shares have been issued.
May Gurney's share price rose 16% on the news this morning to 295p, but Kier's share price fell 7%.
Costain's share price remained relatively unmoved.
Phil White, chairman of Kier, said: "'Scale, performance and reputation are three essential elements of a successful services business.
"The combination of Kier and May Gurney has all three and is a natural fit.
"The combined businesses will offer more services to more clients. The acquisition accelerates Kier's planned growth in the sector and is significantly value enhancing."
Baroness Margaret Ford, chairman of May Gurney, said: "This is a compelling transaction for May Gurney shareholders.
"It offers a highly attractive combination of a significant premium, a cash element and, through the scale and strategic fit of the enlarged group, allows May Gurney shareholders to share in the growth of one of the UK's leading integrated services and construction companies."
In response to the announcement, Costain said this morning it was "considering its position and will make a further announcement in due course."
Joe Brent, an analyst at Liberum Capital, said he expected the Kier's deal to be a "knock out bid", with Costain unlikely to return with an improved offer.
He said: "It is impossible to rule out a further Costain bid. However, we do not believe Costain could justify the same level of synergies (less overlap) and we see this price as full. We expect the deal to go though on current terms."
Stephen Rawlinson, an analyst at Whitman Howard, said Costain now needed to "go back to the drawing board".
He said: "Where does this leave Costain? As far as we are concerned no better than it was before and no worse other than carrying the costs of this aborted transaction. The company would have improved May Gurney we believe, but the risk level for shareholders was large, especially in the local authority space which would have been 25% of the combined revenue.
"Costain, after aborted bids for Mouchel (a close shave) and May Gurney, needs to get back to the drawing board and assess fully what is achievable in terms of expansion. But that does not make it a bad business, indeed it is a very good one from what we can see and we suspect will be forced to rethink its expansion plans."
Kevin Cammack, an analyst at Cenkos Securities, said: "Costain will be hard pressed to get near this - I always said an all-share nil premium merger is a hard deal to pull off in any circumstances.
"May Gurney adds scale and revenue in arguably Kier's most valued division as far as market perception and rating is concerned, but this is the first scale deal Kier has ever done in its corporate history and with management un-tested on integration, it is not without execution risk."