Balfour Beatty's Leo Quinn and McAlpine's Paul Hamer also add their names to Boris Johnson letter
The bosses of Mace, Kier and Sir Robert McAlpine are among industry chiefs who have written to the prime minister calling for HS2 to be built in its entirety.
Mark Reynolds, Andrew Davies and Paul Hamer have been joined as signatories on the letter to Boris Johnson by Balfour Beatty boss Leo Quinn, Skanska chief Greg Craig, Keltbray chief executive Brendan Kerr and Morgan Sindall boss John Morgan.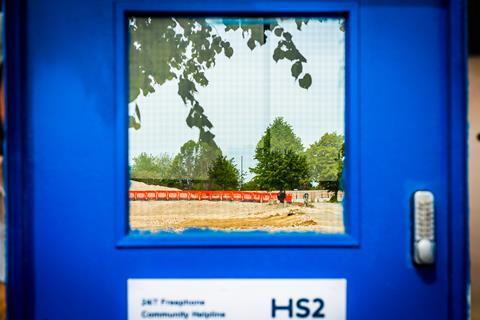 The letter, which was also sent to chancellor Sajid Javid and transport secretary Grant Shapps, asked Johnson to consider the benefits of HS2 to industry when responding to the Oakervee review.
The authors said that HS2 would not only create 30,000 jobs during construction but also help future-proof the skill sets of UK workers moving forward.
The letter said: "People will be trained to use the new skills the construction and infrastructure industry needs as it comes to increasingly rely on modern methods of construction such as offsite manufacturing. This will enable us as a sector to further develop our exportable skills base and boost the UK's industrial capacity."
The letter said that while some opponents of HS2 have suggested that any decline in sector activity could be addressed through investment in alternative infrastructure works, this was not the case.
It added: "We want to be clear – as experts on the forward pipeline of UK infrastructure opportunities – that no substantive 'shovel-ready' projects exist. It would take many years to get an equivalent pipeline of work in place, by which time the damage would already be done to the supply chain."
The letter also said that the project has significant benefits for SMEs – saying more than 2,000 firms had already been engaged to work in the supply chain.
The public plea comes as a leak to the Financial Times revealed that the Oakervee review has found the cost of HS2 is likely to soar to more than £100bn.
According to the document the budget for the controversial high-speed rail link could increase from the current level of £88bn to £106bn. It was originally forecast to cost £34bn.
Full list of signatories
| Name | Company |
| --- | --- |
| David Bardwell | Aecom |
| Hannah Vickers | Association for Consultancy and Engineering |
| Philip Hoare | Atkins |
| Steve Fox | Bam Nuttall |
| Leo Quinn | Balfour Beatty |
| Vincent Avrillon Rivault | Bouygues Travaux Publics |
| Suzannah Nichol | Build UK |
| Alasdair Reisner | Civil Engineering Contractors Association |
| Matthew Fell | Confederation of British Industry |
| Alex Vaughan | Costain |
| Guillaume Sauve | Eiffage Génie Civil |
| Craig Beaumont | Federation of Small Businesse |
| Brendan Kerr | Keltbray |
| Andrew Davies | Kier |
| Mark Reynolds | Mace |
| John Morgan | Morgan Sindall |
| Michael Haigh | Mott Macdonald |
| Mathew Riley | Ramboll |
| Paul Reilly | Stantec |
| Paul Hamer | Sir Robert McAlpine |
| Greg Craig | Skanska |
| Simon Wild | Strabag |
| Bruno Dupety | Vinci |
| Alan Robertson | Volker Wessels UK |
| Mark Naysmith | WSP UK |
For the full letter see attached document