Contractor collapsed a week before Andrew Davies had been due to take top role, opening up eventual move to rival
Kier chief executive Andrew Davies has spoken for the first time about his aborted move to Carillion which ended up with him never taking the top job after the firm went bust a week before he was due to start.
Davies ended up taking over as Kier boss in April 2019 – more than a year after he was supposed to start the chief executive's role at Carillion.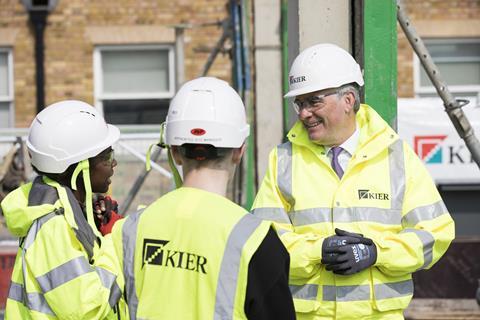 But seven days before he was due to arrive at Carillion – the date having been brought forward by several months following his departure from Wates in November 2017 – the country's then second biggest contractor imploded.
In an interview with Building, Davies said the writing was on the wall for Carillion the previous November when it announced further losses on top of the £845m provision it made in July 2017 because of problem jobs at home and abroad.
He said: "I think [with] Carillion, sadly, it was fairly early on it was evident, after I'd signed up, [it wouldn't survive]. They had a second round of losses and provisions in the November, which I think they hadn't appreciated and I certainly wasn't aware of [after] all the due diligence I did, which I assure you was very, very extensive with all their advisors. It was like sand going through your hands, Carillion."
Instead of trying to rescue Carillion, he spent much of 2018 carrying out his non-executive role for aerospace and defence contractor Chemring and several weeks walking a number of long-distance paths including the 186 mile Pembrokeshire Coast Path in the depths of winter.
He joined Kier the following spring, after turning down jobs offers elsewhere, and immediately got to work restructuring the business, announcing a plan two months after he joined.
"My personal view of Kier, it was fundamentally a very strong operational company but had lost their way strategically and had taken a number of missteps which had proved, frankly, catastrophic."
In his first set of year-end results as chief executive, he was forced to announce a £245m pre-tax loss and an average month-end net debt of £422m.
Last week, Kier said it expects its full-year results to be ahead of expectations when the firm releases the figures this September.
In a trading update, the contractor said its adjusted operating margin for the year to June would be around 3% with the firm saying that it is on track to meet its medium-term target of 3.5% on revenue of between £4bn and £4.5bn. The firm said its average month-end net debt would be at a similar level to the £436m recorded in 2020 because the proceeds from the sale of housing arm Kier Living and a recent equity raise, which total around £350m, had only arrived in the last few months of the financial year.