Project will make RAF Lakenheath the first permanent base for US F-35s in Europe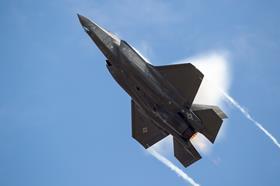 The Ministry of Defence has handed Kier VolkerFitzpatrick a £160m contract to deliver infrastructure to ready RAF Lakenheath for two squadrons of US F-35s.
The department's estate management arm the Defence Infrastructure Organisation (DIO) awarded the contractors the deal to prepare the Suffolk airbase to be the first permanent international site for US Air Force F-35s (pictured) in Europe.
The contract includes the construction of a flight simulator facility, a maintenance unit, new hangars and storage facilities.
The flight simulator will have the capacity to link to other simulators used by UK pilots across the UK and beyond, allowing expertise to be shared and pilots from the UK and US to train together on a regular basis.
At the height of construction around 700 people are expected to be on site.
Kier has previously delivered projects at MoD Lyneham and RAF Shawbury.
Earlier this month, the MoD revealed a new procurement plan outlining a £15.7bn programme of major projects and a proposal to expand its supply chain.
The DIO unveiled its plan for the next five financial years, saying it wanted to establish what a broader and more diverse supply base, including doing more business with SME suppliers, and publishing a list of major projects.