Exclusive: Preferred bidder Morrison withdraws from job on Circle's £1.2bn repairs contract package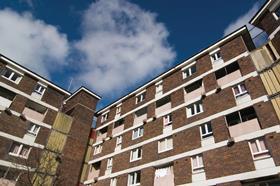 Kier has snapped up a repairs contract worth up to £350m for affordable housing giant Circle after rival and preferred bidder Morrison withdrew from the job.
Back in May last year Circle announced four contractors had been appointed to its £1.2bn contract package covering planned and responsive works in three English regions over 10 years (see table below) – the largest procurement of its kind in the sector. This included Morrison's selection for responsive repairs in the Central region, worth £240m-£350m.
However, Mears Group - which bought the social housing arm of Morrison for £24m last November - confirmed this week that it is withdrawing Morrison from the Central job, because it considers the original fee bid too low.
Executive director at Mears, Alan Long, said: "When we acquired Morrison last year, it was a contract that Morrison had on the table but neither party had signed it.
"We decided that wasn't right for us at the price originally discussed. There was some discussion but we very quickly came to a mutual agreement that it wasn't going to work."
Long added that the work was one of Morrison's "top five or six" jobs in terms of value but said it was the only one that Mears could not continue with.
Andy Doylend, executive director of operations at Circle, said: "Our robust procurement process means we have ranked bidders who are able to offer the quality service we want for our customers at the best value for money. As a result, we will now be proceeding with the second highest bidder, Kier."
A spokesperson for Kier said the firm was "delighted" to take on the work, adding it is "committed to providing both a high quality and value for money service."
The latest news follows the launches of two High Court challenges against Circle by unsuccessful bidders for jobs on the contract package, both understood to relate to low fee bidding.
As Building revealed last August, Apollo - now part of Keepmoat - had sued Circle over the award to Kier of two lots worth up to £490m. It said the decision had been made on the basis of what it alleged was an "abnormally low" fee bid. This action has now been withdrawn by Keepmoat, according to chief executive Dave Sheridan.
In a separate legal claim which is ongoing and also understood to relate to allegations of low fee bidding, Breyer Group disputed the Southern region planned repairs lot, worth up to £340m and won by United House.
But Doylend said Circle was "extremely pleased" with the progress of the huge contract package, which has included signing contracts with United House and Keepmoat.
He added: "As with any procurement process, there is always a risk things can change."

Circle's repairs contract package
Region
Responsive repairs
Planned repairs
Eastern
£155-£220m
Circle's in-house repsirs service
£156-£220m
Kier
Central + West Midlands
£240-£350m
Kier (formerly Morrison)
£188-£270m
Kier
Southern
153-£220m
Keepmoat (Apollo)
£293-£340m
United House