Firm's on-off involvement confirmed a year after Multiplex emerged as favourite for Moxon Street scheme
Kier has formally been confirmed as the winner of a £100m-plus mixed-use scheme in central London – more than a year after the job looked to be heading to Multiplex.
The firm has signed a £106m deal with developer Concord London for the scheme at Moxon Street, now known as Marylebone Square, which will involve turning a former car park in upmarket Marylebone into a luxury retail and residential scheme.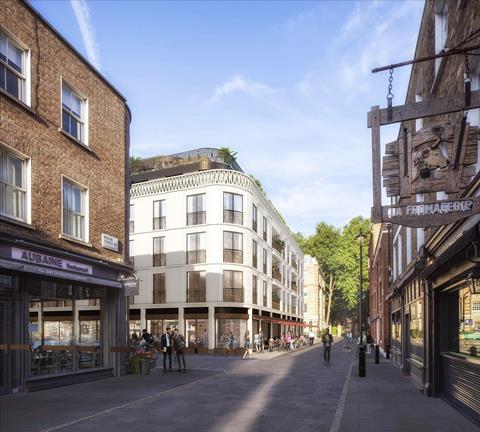 Kier originally pipped Multiplex to the job in 2018 but last summer its beaten rival began sounding out trade contractors about the work.
At the time, one industry source said: "We were told they [Kier] couldn't sort out a price. Multiplex is asking the trades for prices."
Multiplex, which worked with Concord on the 50-storey Foster & Partners-designed Principal Tower on the City fringe at Shoreditch, was then considered favourite for the job but it is understood its interest cooled after it too had problems meeting the scheme's then £100m budget.
The win is a tonic for Kier in the central London market after being ditched on British Land's Norton Folgate scheme, opposite Principal Tower, last summer. Skanska eventually beat Mace to the work with tower cranes at the job going up over the summer.
Designed by architect Simon Bowden Architecture, the firm set up by the former Fosters partner in 2011, the Moxon Street scheme was first given planning five years ago and involves building more than 50 high-end apartments, along with boutiques and upmarket restaurants. It will also include a community hall.
The nine-storey building will comprise five floors of residential, which include a further 25 affordable apartments, with the ground floor and three floors of basement featuring the retail, restaurants and community hall.
Work on the Marylebone Square scheme is scheduled to finish in 2023.
Others working on the project include QS Gardiner & Theobald, M&E engineer Hurley Palmer Flatt and structural engineer Alan Baxter Associates.
Concord London was founded by Canadian developer Concord Pacific and London firm Ridgeford.