Kier was appointed to first phase of Ram Brewery scheme last April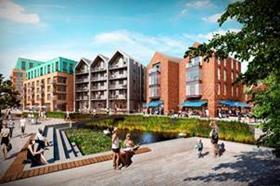 Kier has decided to walk away from a £170m job in south London for Chinese client Greenland Group.
The contractor was appointed preffered bidder on the £170m first phase of Greenland's Ram Brewery project in Wandsworth last April, but confirmed this morning it would not be building the main works.
Over the past year Greenland and Kier have been working on enabling works for the first phase, but they were unable to agree terms for the ongoing work.
The two firms said they "reached this decision jointly and remain on positive trading terms".
A Kier spokesperson said: "Client and contractor partners always have their own fixed points that cannot be breached in a moving market, but Greenland has been an excellent client to work with and we will support them until an alternative contractor is in place."
A Greenland spokesperson said: "We appreciate the work that Kier has done on The Ram Quarter project and we anticipate that works will be completed as scheduled with our new construction partner."
Last week Bouygues said it had quit a £65m scheme to extend London's Great Ormond Street Hospital amid signs contractors are becoming increasingly selective in the hot London market.
The first phase of the Ram Brewery project comprises 338 of a total 663 planned new homes on the site of the former Youngs brewery in south London.
The phase comprises 411,000 sq ft of housing and retail space across nine blocks of between four and 10 storeys, as well as the refurbishment and remodelling of the brewery complex. The phase was expected to complete in early 2017.