Kier Living to take on 128 jobs from Southdale Homes after firm files for administration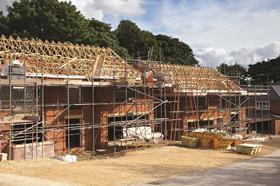 Kier has stepped in to save up to 128 jobs at Southdale Homes after the company fell into administration due to cash flow problems.
Kier subsidiary Kier Living has agreed a deal with the company to offer work to 128 employees at Southdale Homes after it suffered losses on several contracts.
The Yorkshire-based group, which had a turnover of £30m, has made 87 remaining employees redundant. Southdale Homes specialised in building affordable homes. Peter Holder, Lee Causer and Anne O'Keefe of AlixPartners Services UK were appointed as joint administrators at Southdale Homes on 29 April.
In a statement administrators AlixPartners said: "Administrators were appointed as a result of the company experiencing severe cash flow problems stemming from the identification of a significant number of loss-making contracts.
"Upon appointment, the joint administrators immediately effected a sale of certain parts of the company's business and assets to Kier Living Limited (Kier). As part of this sale, Kier will be seeking the potential novation of a number of the company's key contracts and 128 employees will be transferring to Kier to support this process.
"Regrettably, the sale was not able to preserve the employment of the company's remaining 87 employees and they were made redundant with immediate effect. The joint administrators will continue to explore all options for the residual business and assets."
Southdale Homes works primarily with local authorities across the North-west, North-east and the Yorkshire and Humber regions. The sale to Kier Living will include a number of contracts which were held by Southdale Homes as well as the 128 employees.
In a statement Kier Living said it would offer employment to 128 Southdale staff on contracts that Kier believes can be successfully integrated into the division, from bases in Yorkshire (Halifax) and the North-west (Warrington).
In the statement Kier Living said: "This strengthens Kier's Residential division, increasing employee numbers to over 520 and substantially expanding its presence in the north of England.
"Leveraging expertise as an HBF 5* national housebuilder, Kier Living's newly expanded north of England team will offer a comprehensive housing capability; from site finding and securing funding to provision of mixed tenure development, private market housebuilding and contracting."
John Anderson executive director Kier Living said: "Not only will we be able to use the combined capability and expertise of the two teams to deliver existing developments, we will also be able to expand our offering to a wider range of clients, and deliver projects of an increased scale. I would like to take this opportunity to welcome Southdale employees to Kier and look forward to continuing our journey of growth with them."