Contractor's stock fell 10% yesterday, following last Friday's slump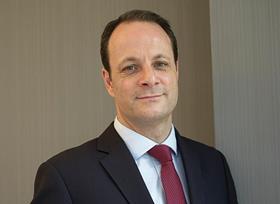 Kier's shares have lost around 40% of their value since the contractor's shock rights issue announcement last Friday.
The £264m deal was announced late on Friday afternoon, prompting shares in the indebted group to plunge by a third from 752p to close at 505p.
And yesterday Kier's stock fell still further, down 10% to close last night at 455p.
The group's chief executive Haydn Mursell (pictured) told Building last week that he expected the shares to right themselves once the new stock began trading just before Christmas.
The share price fall was a "mathematical adjustment", he said and once the dust had settled added that he expected trading to between 550p and 615p.
Kevin Cammack, an analyst with Cenkos, said Kier had "bitten the bullet" over its debt situation.
He added: "People either didn't believe it could get the debt down with things like the Future Proofing project [the cost-cutting initiative announced over the summer] or were impatient with the pace of it. It just wasn't aggressive enough in terms of both scale and timing.
"At a stroke [the rights issue] probably gets a balance sheet composition that is deemed satisfactory for all stakeholders, although obviously that comes at a hefty price for ordinary shareholders, both in capital and income terms."
Kier is set to slash this year's payout to shareholders, possibly from 69p to no more than 25p a share as a result of the rights issue.