Housebuilding, decarbonisation target and national infrastructure commission among policies announced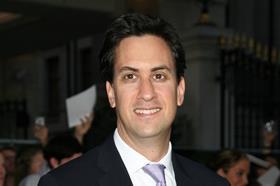 Labour has launched an election manifesto designed to project economic competence, in which the party has committed to several policies that would boost infrastructure and housing spending over the next parliament if the party was elected.
Announced at an event in Manchester yesterday, Ed Miliband confirmed his government would target UK construction of a minimum of 200,000 new homes a year, with first priority given to local first-time buyers; increase competition in the construction industry by backing small building companies; and establish an independent National Infrastructure Commission to assess how best to meet the country's needs.
Also detailed in Labour's manifesto are reaffirmations to support the construction of High Speed 2 (HS2) and expand rail links across the North to boost regional economies.
It committed too to a future Miliband administration taking "swift" actions upon on airport expansion, following the recommendations made by the Davies Commission.
The ambitious document, which outlines policies impacting on hundreds of infrastructure, property and commercial construction firms, comes days after senior party campaign strategists insisted future plans were fully-costed and would be implemented without the need for any additional borrowing.
But in a bid to buoy business leaders' confidence, Mr Miliband also announced intentions to cut, then freeze, business rates, as well as to maintain the most competitive corporate tax rates in the G7.
Some construction bosses voiced support for the Conservatives in a letter to the Times last week, including the bosses of construction firms Morgan Sindall, Wates and JCB.
The Federation of Master Builders said Labour's manifesto shows "a welcome recognition of the economic and social importance of building more homes".
The Institution of Civil Engineers signaled support for Labour's decarbonisation target - removing carbon from the electricity supply by 2030 - but expressed concern over proposals for an independent body to offer the government recommendations on future infrastructure projects, citing the creation of such an entity from scratch as having the potential to "stall momentum and shake confidence".