Shadow housing minister sets out stall for general election battle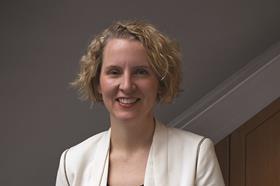 A Labour government would directly intervene in the housing market to get more new homes built if it won power in May's general election, according to shadow housing minister Emma Reynolds.
In the annual Sir Frederic Osborn Lecture to the Town and Country Planning Association later today, Reynolds will argue that Labour has a comprehensive plan to tackle the housing crisis - in contrast to the Conservative Party.
She cites her party's plan to create Olympics-style New Homes Corporations; its proposed Housing Growth Zones, designed to build-out designated areas "at pace"; the provision of low-cost loans for small-sized builders; and support for a new generation of garden cities as part of the plan.
Advance copies of her speech accuse prime minister David Cameron of presiding over the lowest levels of housebuilding in peacetime since the 1920s, prompting a record number of people in their 20s and 30s to remain living with their parents.
"The next Labour government will recapture the post-war spirit for building new homes and match that renewed ambition with a drive to build high quality homes and great places for new communities," she said.
"Labour has developed the first comprehensive plan for a generation to tackle the housing crisis. A Labour government will get at least 200,000 homes built a year by 2020 but we won't stop there."
Reynolds said her party would give local government a major new role in assembling land, delivering infrastructure and commissioning housing development.
"It will be a partnership with the private sector, attracting private investment and commissioning private developers to build the homes we need," she said.
"Labour will also increase competition in the building industry, build more affordable homes and unleash a new programme of New Towns and Garden Cities."
Reynolds also derided the coalition government's new Starter Homes policy, which gives developers planning obligation breaks for constructing new homes for the under-40s on brownfield sites, which must be offered at a 20% discount to market rates.
She said the policy was "pie in the the sky" and that the government could not say how the £8.6bn cost of the discount would be paid for.
Separately, the Home Builders Federation (HBF) yesterday called on chancellor George Osborne to use next week's budget to accelerate the delivery of homes stuck in the planning system and allow firms to build new properties more quickly.
It called for further improvements to the end-to-end planning process; measures to ensure that planning authorities are equipped to deal with increased demand; and help to secure long-term supplies of land that can be built out more quickly and which are accessible for local and regional housebuilders.
HBF executive chairman Stewart Baseley said developers were "frustrated" by the delays preventing a faster increase in output and wanted further streamlining of the planning system.
"The private sector housebuilding industry will build the majority of the homes of tomorrow and it must be encouraged and assisted by policies that create a climate within which it can grow," he said.