Long awaited Lyons review to be launched today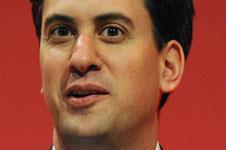 A Labour government will grant fast-track land assembly powers to local authorities with a high demand for housing in order to increase housebuilding rates, according to the long-awaited Lyons review commissioned by the party.
Labour leader Ed Miliband will today say that councils will be able to designate new "housing growth areas" which "will have powers to assemble land and give certainty that building will take place". The strategy, to be launched later today, is designed to reach Labour's previously set out goal of building 200,000 homes a year by 2020.
Under the plans local first-time buyers will be given priority right to buy the homes within the growth areas, and groups of councils will be encouraged to form "Olympic-style" new homes corporations to build out designated land at pace.
The recommendations are among a number to come out of the long-awaited housing policy commission held by Sir Michael Lyons to be accepted immediately as Labour party policy. In addition, the party said it would make it mandatory for local authorities to have a Local Plan to meet the housing needs of the local community; that it would introduce measures to drive competition in the housebuilding industry; and set up a "Help to Build" scheme to underwrite loans to small builders.
Shadow chancellor Ed Balls has previously ruled out borrowing more to fund construction of new homes, but has said that Labour would make housing a "bigger priority" within the government's existing capital budget.
Sir Michael Lyons said the report was a response to "the biggest housing crisis in a generation." He said implementing the recommendations would make more land available for new homes, unlock investment in infrastructure, and ensure that new homes are built when and where they are needed in attractive, thriving places. "We simply have to do better as a nation. This will require strong leadership from central government alongside the delegation of powers and responsibility so that every community provides the homes they need. It will involve a more active role for local government in assembling land and in risk sharing partnerships with developers, landowners."
Lyons said his proposals would get smaller housebuilders back into business, "tap the potential of the construction industry" and free up housing associations to contribute more.
His proposals will also include the provision of financial incentives to local authorities so that they deliver a programme of new Garden Cities and Garden Suburbs providing 500,000 homes.
Miliband is expected to say: "Only Labour has a plan to build the homes that our country, our local communities and our families need. We will get Britain building again by insisting local authorities have a plan to meet the need for housing in their area."
Housebuilders and housing associations welcomed Labour's commitment to build more homes. Stewart Baseley, executive chairman of the Home Builders Federation said: "Whilst we have seen a big increase in house building activity in recent months, we are still not delivering enough homes to meet the country's needs. Policies that would result in more land coming forward for development more quickly and further assist first time buyers would clearly provide a boost to housing supply."
Grainia Long, chief executive of the Chartered Institute of Housing (CIH) and a member of the Lyons commission, said: "This report is a detailed blueprint for action on most of the main barriers to building 200,000 homes a year. It's the most comprehensive approach since the Barker Review of housing supply 10 years ago – and if implemented would bring a renewed urgency to addressing the housing crisis."