Disposal will help pave way for Lafarge and Holcim mega-merger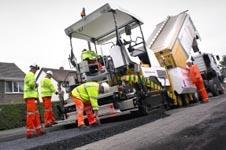 Britain's biggest cement and building materials firm Lafarge Tarmac is to be put up for sale with a potential price tag of around £1.6bn, as part of a wider move by aggregates giant Lafarge to sell off a range of assets to pave the way for its proposed mega-merger with Holcim.
Lafarge announced on Monday (7 July) that is was planning to sell the Lafarge Tarmac business to help gain approval from competition authorities for its proposed £32bn merger with fellow building materials giant Holcim.
Lafarge owns 50% of Lafarge Tarmac and this week acquired the other 50% from London-listed mining group Anglo American for £885m, before putting the whole business on the market.
Lafarge and Holcim announced their intention to merge in April, in a move that would create the largest global player in the cement, concrete and aggregates markets.
Swiss-based Holcim has agreed to purchase Lafarge, with each Lafarge shareholder set to receive one Holcim share for every Lafarge share they own.
The news of the Lafarge Tarmac sale came as the two aggregates giants announced a series of proposed disposals, amounting to around €5bn (£4bn) in assets, to gain approval from competition authorities for the merger.
Lafarge is also proposing disposing of assets in Austria, Germany and Romania, while Holcim is proposing disposing of assets in France, Hungary, Serbia, Canada and Mauritius and both are considering disposing of some of their assets in Brazil and the Philippines.
The two giant's propose to keep hold off Holcim's assets in the UK, including Aggregate Industries, the firm it bought in 2005.
The firms are aiming to have sold off the assets ahead of completing the proposed merger in 2015.
"This is a unique opportunity to acquire such attractive assets," said Bruno Lafont, chief executive of Lafarge.
"We have already received many indications of interest from a wide range of industrial and financial potential buyers."
The planned asset disposals will affect some 10,000 workers out of the combined group's 130,000.
Anglo American pooled its Tarmac assets with Lafarge UK in 2013 to create the UK's biggest building materials firm by revenue.
But the £1.8bn Anglo-Lafarge deal, which was first announced in 2011, sparked competition concerns and took two years to gain clearance from regulators.