Exclusive: Anna Stewart intervenes in ongoing debate over mandating prompt payment to suppliers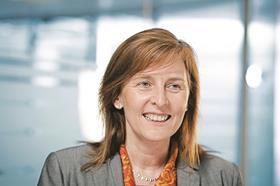 Laing O'Rourke chief executive Anna Stewart has intervened in the ongoing debate over mandating prompt payment to suppliers, Building can reveal.
Building understands Stewart presented a paper to the Construction Leadership Council (CLC) over the summer outlining her concerns about how the charter, to which Laing O'Rourke is a signatory, was implemented.
It is understood to have put the emphasis for fair payment in the industry back on to construction clients and said their agreement to pay promptly was key to making improvements on payment through the whole supply chain.
The news comes as it emerges the arrangements for monitoring and enforcing the construction industry payment charter, unveiled by the CLC in April, will be in place by the end of the year. The charter commits signatories to implement 60-day payment terms for their whole supply chain immediately, before reducing this to 45 days from June 2015 and 30 days from January 2018.
Suzannah Nichol, chief executive of the National Specialist Contractors' Council, backed Stewart's intervention and said Laing O'Rourke was "in exactly the same position as the supply chain" when dealing with clients.
She said: "There will be plenty of their clients that will pay her promptly and there will be plenty that don't. So she has to use the ones that do pay promptly to offset those that don't."
Agreement on how the charter's commitments are monitored and enforced has proved difficult to reach.
Speaking to Building this week, Philip King, chief executive of the Institute of Credit Management, who has been charged with drawing up the arrangements said he "hoped" that all the arrangements would be in place by the end of the year.
King said agreement had been reached that firms would be monitored on their payment days, both on cash flowing in and flowing out; the proportion of retentions they held; and the proportion of business conducted using supply chain finance schemes. But he added that further monitoring may still form part of the final package of measures.
King said: "What we are trying to do is get KPIs that are easily collected." He said firms would be able to highlight non-compliance from signatories through a website and that this would be independently investigated.
"I would hope by the end of the year we have got something in place and up and running," he said.
Laing O'Rourke declined to comment.